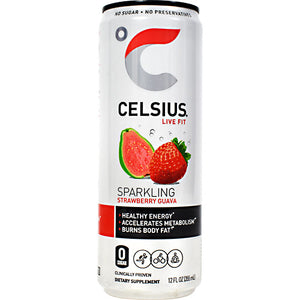 Details:
No Sugar. No Preservatives. Live Fit. Healthy Energy. Accelerated Metabolism. Burns Body Fat. 0 Sugar Gluten Free. Kosher. Non-GMO. No High Fructose Corn Syrup. No Aspartame. No Preservatives. No Artificial Colors or Flavors. 7 Essential Vitamins. Proven In 6 Published University Studies. How Does It Work? Celsius' Proprietary MetaPlus Formula Including Green Tea With EGCG, Ginger And Guarana Seed Turns On Thermogenesis, A Process That Boosts Your Body's Metabolic Rate. Drinking Celsius Prior To Fitness Activities Is Proven To Energize, Accelerate Metabolism, Burn Body Fat And Calories. Invest In Yourself, Drink Celsius.
Ingredients:
Carbonated Filtered Water, Citric Acid, Vegetable Juice (color), Sucralose, Natural Flavor.
Warnings:
Do Not Exceed (2) Servings Per Day. Not Recommended For People That Are Caffeine Sensitive, Children Under 18, Or Women Pregnant Or Nursing. Contains: 200mg Total Caffeine per Serving.
Nutrition Facts
Serving Size: 12 fl oz
Servings Per Container: 12
 
Amount Per Serving
Name
Serving
% Daily Value
Calories
10.0
-
Sodium
0.0 mg
-
Total Carbohydrate
1.0 g
1.0%
Riboflavin
1.7 mg
131.0%
Biotin
300.0 mcg
1000.0%
Vitamin C (Ascorbic Acid)
60.0 mg
67.0%
Vitamin B6 (Pyridoxine Hydrochloride)
2.0 mg
118.0%
Vitamin B12 (as Cyanocobalamin)
6.0 mcg
250.0%
Calcium (as Calcium Carbonate)
50.0 mg
4.0%
Niacin (as Niacinamide)
20.0 mg
125.0%
Pantothenic Acid (as Calcium D-Pantothenate)
10.0 mg
200.0%
Chromium (Chelate)
50.0 mcg
143.0%
MetaPlus Proprietary Blend
1.81 g
-
MetaPlus Proprietary Blend
Taurine, Guarana extract (seed), Caffeine (as caffeine anhydrous), Glucuronolactone, Ginger extract (root), Green Tea leaf extract (leaf) standardized to 15% EGCG