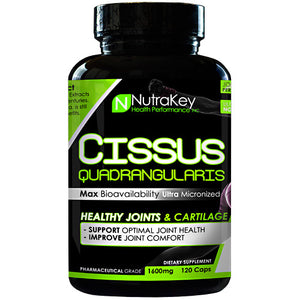 Details:
Cissus Quadrangularis. Max Bioavailability. Ultra Micronized. Healthy Joints and Cartilage. Support Optimal Health Joint. Improve Joint Comfort & Recovery. Cissus Quadranularis is a natural extract. Cissus Quadrangularis is a type of vine in the grape family. Extracts from this plant have been used in classical medicine for centuries. This succulent vine, which grows naturally in Africa and Asia, is still well regarded today for its unique healing and health benefits. Antioxidant Joint Support. Cissus Quadrangularis contains several unique saponins and anti-oxidants. It has been clinically studied for its support in joint, ligament, and tendon health. Studies suggest that Cissus Quadrangularis may provide a range of benefits for soft tissue health, while also contributing to a healthy anti-inflammatory response. Inflammation Support. Controlling inflammation is extremely important to overall health and wellness, especially for those who lead an active lifestyle.
Ingredients:
None. Contains absolutely no added fillers, excipients, or substances.
Directions:
Take 1 level scoop (1000 mg) 30 minutes prior to a meal in the morning and 1 scoop 30 minutes prior to a meal 6-8 hours later.
Warnings:
Pregnant or lactating women, diabetics, hypoglycemic, and people with known medical conditions and/or taking drugs should consult with a licensed physician and/or pharmacist prior to taking dietary supplements. Do not use if safety seal is broken. Hypoallergenic: contains no yeast, diary, egg, gluten, corn, soy, wheat, sugar, starch, preservatives, or artificial color.
Nutrition Facts
Serving Size: 2 Capsules
Servings Per Container: 60
 
Amount Per Serving
Name
Serving
% Daily Value
Cissus Quadrangularis Extract
1600.0 mg
-
Cissus Quadrangularis Extract
P.E. Standardized 2.5% (Steam Sterilization)