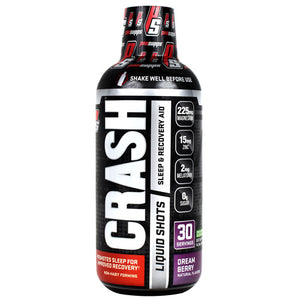 Details:
Promotes Sleep For Improved Recovery. Non-Habit Forming. Liquid Shots. Sleep and Recovery Aid. 225mg Magnesium. 125mg Zinc. 2mg Melatonin. 0g Sugar. Zero Artificial Colors or Flavors. When We Started ProSupps We Were A Small Group Of Dudes Groomed By Iron That Were Tired Of Sports Nutrition Products Built By People Behind Desks And Not Behind Squat Racks. We Believed We Could Do It Better, By Building Best-In-Class Products That Bodybuilders, Performance Athletes And Fitness Fanatics Like Us Wanted. Today, ProSupps Is An Army Of Competitors And Believers, Whose Purpose Is Simple-To Unlock The Alpha In Each One Of Us. Gluten Free. Alpha All Day.
Ingredients:
Purified Water, Glycerin, Natural Flavor, Citric Acid, Potassium Sorbate, Sodium Benzoate, Sucralose.
Directions:
Shake Well Before Use. Suggested Use: Drink 1 Serving (About 1 Tablespoon) Of Crash Sleep Shot 20-30 Minutes Prior To Bedtime Alone Or Along With Your Favorite Bedtime Drink. For Maximum Effect Use 2 Servings Along With Your Favorite Nighttime Beverage. Shake Container Well Before Every Use.
Warnings:
This Product Contains Melatonin. This Product Is Intended For Healthy Adults, 18 Years Of Age Or Older. Consult A Physician Prior To Using This, Or Any Other Dietary Supplement. Do Not Take This Product If You Are Pregnant Or Nursing, If You Have Or Suspect You May Have A Medical Condition, Or If You Are Taking Any Prescription Or Over-The-Counter Medications. Do Not Take This Product If You Are Taking Any Blood Pressure Medication. Do Not Exceed Recommended Serving. Immediately Discontinue Use And Consult A Qualified Medical Professional If You Experience Any Adverse Effects. Keep Out Of Reach Of Children. Do Not Consume Alcohol Or Operate Machinery Or A Vehicle While Using This Product.
Nutrition Facts
Serving Size: 1 Tablespoon
Servings Per Container: 30
 
Amount Per Serving
Name
Serving
% Daily Value
Calories
25.0
-
Total Carbohydrate
7.0 g
3.0%
Melatonin
2.0 mg
-
Magnesium (as Magnesium Citrate)
225.0 mg
54.0%
Zinc (as Zinc Amino Acid Chelate)
15.0 mg
136.0%
GABA (Gamma-Aminobutyric Acid)
25.0 mg
-
Vitamin B6 (as Pyridixoine HCl)
5.0 mg
294.0%