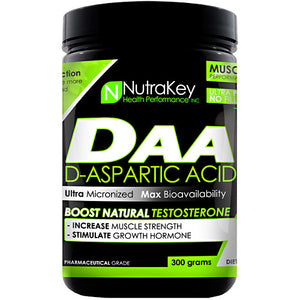 Details:
Ultra Micronized Max Bioavailability. Boost Natural Testosterone. Increase muscle strength. Stimulate growth hormone. D-Aspartic Acid Increases Natural Testosterone Production. DAA accumulates in the testes and may activate the leydig cells to create more natural testosterone. It may also have action in the central brain region and activate the pituitary gland to initiate more natural hormone production. Increased Testosterone Levels. Testosterone has a positive effect on strength, stamina, lean muscle retention, and fat loss. Increased testosterone and GH levels have a dramatic impact on metabolism and fat loss.
Ingredients:
None. Contains absolutely no added fillers, excipients, or substances.
Directions:
Take 1 scoop (3000) mg) with 6-8oz of water or your favorite beverage with your first meal of the day or as directed by a health care professional.
Warnings:
Pregnant or lactating women, diabetics, hypoglycemic, and people with known medical conditions and/or taking drugs should consult with a licensed physician and/or pharmacist prior to taking dietary supplements. Do not use if safety seal is broken. Hypoallergenic: contains no yeast, diary, egg, gluten, corn, soy, wheat, sugar, starch, preservatives, or artificial color.
Nutrition Facts
Serving Size: 1 Scoop
Servings Per Container: 100
 
Amount Per Serving
Name
Serving
% Daily Value
D-Aspartic Acid
3000.0 mg
-