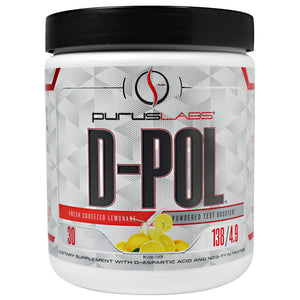 Details:
Powdered Test Booster. 30 True Servings. Dietary Supplement with D-Aspartic Acid and NO3-T Nitrates. Rocketship Libido. University Proven. Continual Use. An Unfortunate Side Effect Of Aging In Males Is Out Natural Testosterone Production Continually Declines As The Years Pass. Once Thought To Be Inevitable, Recent Studies Have Shown That A Combination Of D-Aspartic Acid And Several Cofactors Can Increase Free Testosterone Production Lost To Advancing Age. D-Pol Combines This Research And A Powerful Vasodilator In NO3-T Dietary Nitrates To Facilitate A Boost In The Gym And In The Bedroom. Natural Gains.
Ingredients:
Citric Acid, Natural Flavor, Sucralose, Silica, Acesulfame Potassium.
Directions:
Take 1 Serving With A Mixed Food Meal Prior To Intense Exercise, Optionally, Take 1 Serving With Preworkout To Maximize Exercise Efficiently Alongside Testosterone Elevation.
Warnings:
D-Pol Is Intended Only For Healthy Male Adults Above The Age Of 18. All Individuals Should Consult A Licensed Healthcare Practitioner Before Using This Product. Do Not Use This Product If You Have Been Diagnosed With Or Have A Family History Of (Including But Not Limited To) Heart Disease, Thyroid Disease, Liver Disease, Cancer, Barrett's Esophagus, Gastro-Esophageal Reflux, Diabetes, Hypoglycemia, Hypo/Hypertension, Asthma, Any Psychiatric Condition Including Depression Or Seizure Disorder, Or If You Are Using Any Other Dietary Supplement, Prescription Drug, Or Over-The-Counter Drug Intended To Promote Vasolidation, In Particular Those Intended For Erectile Dysfunction. The Combined Use Of Vasdilatory Supplements Or Drugs And D-Pol Could Cause An Unsafe Drop In Blood Pressure. Discontinue Use And Contact A Medical Doctor Immediately If You Experience An Irregular Or Rapid Heart Beat, Chest Pain, Shortness Of Breath, Dizziness, Lightheadedness, Fainting Or Presyncope, Tremors, Headache, Nausea, Or Other Similar Symptoms.
Nutrition Facts
Serving Size: Approximately 1 Scoop
Servings Per Container: 30
 
Amount Per Serving
Name
Serving
% Daily Value
Sodium
130.0 mg
5.0%
Vitamin B6 (Pyridoxine)
2.0 mg
100.0%
Vitamin B12 (Cyanocobalamin)
6.0 mcg
100.0%
Vitamin D3 (Cholecalciferol)
4000.0 IU
1000.0%
Vitamin B9 (Folate)
400.0 mcg
100.0%
LH/Free Testosterone/ATP Amplifying Vasodilatory Oxygen Sparing Matrix
3.6 g
-
LH/Free Testosterone/ATP Amplifying Vasodilatory Oxygen Sparing Matrix
D-Aspartic Acid (3,120 mg), Nitraline (high molecular-yield nitrate form)(std. for 73% nitrates)(480mg), Vitamin D3 (Cholecalciferol) (4,000 IU)