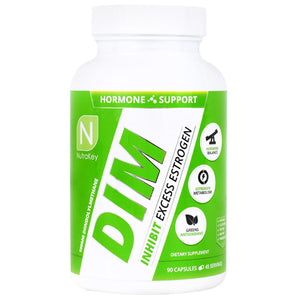 Details:
Hormone Support. 100mg Diindolylmethane. Inhibit Excess Estrogen. Hormone Balance. Estrogen Metabolism. Greens Antioxidant. Non GMO. Gluten Free. Dye Free. BPA Free. Parabens Free. Healthy Antioxidant. Estrogen Balance. Promote Hormone Balance. Diindolylmethane (DIM) Is a Natural Compound Found in Cruciferous Vegetables Such As Broccoli, Brussels sprouts, Cabbage and Kale. In Clinical Studies, DIM Has Been Shown To Balance Hormone Levels In Both Men And Women By Activating Enzymes That Breakdown Excess Estrogen, While Also Converting More Potent Forms Of Estrogen Into Less Potent Forms, Reducing The Overall Effects Of Estrogen In The Body. Greens Antioxidant, DIM Is A Powerful Antioxidant, Which Can Reduce Damage Caused By Free Radicals Throughout The Body. DIM Is One Of The Many Phytonutrients That Give Cruciferous Vegetables Such As Broccoli Their Nutritional Renown. For Best Results: Combine With Nutrakey's DHEA for Optimal Endocrine Support. Health for Every Lifestyle.
Ingredients:
Gelatin (Capsule), (May Contain One Or More Of The Following: Rice Flout, Vegetable Stearate, Silica).
Directions:
Take 2 Capsules (100mg) With Water Or Your Favorite Beverage Twice Daily On An Empty Stomach.
Warnings:
Pregnant Or Lactating Women, Diabetics, Hypoglycemic, And People Known With Medical Conditions And/Or Taking Prescription Medication Should Consult With A Licensed Physician And/Or Pharmacist Prior To Taking Dietary Supplements. Do Not Use If Seal Is Broken. Do Not Use If Packaging Has Been Tampered With. Store In A Cool, Dry Place.
Nutrition Facts
Serving Size: 2 Capsules
Servings Per Container: 45
 
Amount Per Serving
Name
Serving
% Daily Value
Calcium D-Glucarate
100.0 mg
-
Vitamin E (D-Alpha Tocopheryl)
50.0 IU
-
Diindolymethane (DIM)
100.0 mg
-
Black Pepper Extract (95% Piperine)
3.0 mg
-