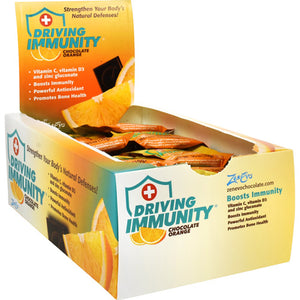 Details:
Strengthen Your Body's Natural Defenses! Vitamin C, Vitamin D3 and Zinc Gluconate. Boosts Immunity. Powerful Antioxidant. Promotes Bone Health.
Ingredients:
Dark Chocolate (Chocolate Liquor, Cocoa Butter, Sugar, Sunflower Lecithin, Vanilla) Vitamin C 250 mg, Zinc Gluconate 10 mg, Vitamin D3 1000 IU And Natural Flavors.
Warnings:
Do not exceed 2 pieces per day. Intended for adults and children 12 years and older. Pregnant or nursing women's and individuals taking any medication or who have underlying conditions should consult with their physicians before using this product. Zenevo assumes no responsibility for the improper use of Driving Immunity. Keep out of reach of children. Processed where peanuts, tree nuts, milk, soy and wheat are present. Processed on equipment previously used to process milk chocolate.
Nutrition Facts
Serving Size: 1 Piece
Servings Per Container: 50
 
Amount Per Serving
Name
Serving
% Daily Value
Calories
50.0
-
Total Fat
3.0 g
4.0%
Saturated Fat
2.0 g
10.0%
Trans Fat
0.0 g
-
Cholesterol
0.0 mg
-
Sodium
0.0 mg
-
Potassium
0.0 mg
-
Total Carbohydrate
6.0 g
2.0%
Dietary Fiber
1.0 g
4.0%
Protein
-1.0 g
1.0%
Vitamin C
280.0%
Calcium
0.0 mg
-
Iron
0.0 mg
-
Vitamin D
25.0 mcg
120.0%
Zinc
90.0%
Sugars
4.0 g
-
Sugars
Includes 0g Added Sugars 0%