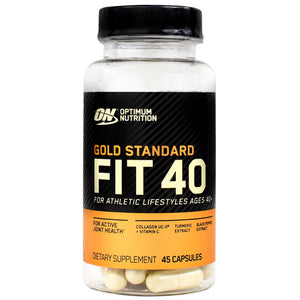 Details:
For Active Individuals 40+. For Active Joint Health. Collagen UC-II + Vitamin C. Turmeric Extract. Black Pepper Extract. Why Gold Standard Fit 40? Gold Standard Fit 40 Active Joint Health Helps Keep Your Joints Healthy And Performing At Their Peak So You Can Train Harder And Train Longer In The Gym And In Your Sport.
Ingredients:
Gelatin, Microcrystalline Cellulose, Oat Bran, Silicon Dioxide, Magnesium Stearate.
Directions:
Suggested Use: Intended For Use In Healthy Adults And As Part Of A Healthy, Balanced Diet And Exercise Program.
Warnings:
Consult Your Physician before Using This Product If You Are Taking Any Medications or Are under a Physician's Care for a Medical Condition. Not For Use By Those Under The Age Of 18 Or Women That Are Pregnant, Trying To Become Pregnant Or Nursing. Store in a Cool, Dry Place.
Nutrition Facts
Serving Size: 1 Capsule
Servings Per Container: 45
 
Amount Per Serving
Name
Serving
% Daily Value
Vitamin C (as Ascorbic Acid)
90.0 mg
100.0%
Hops Extract
100.0 mg
-
UC-II Chicken Cartilagel (Providing 10mg Total Collagen)
40.0 mg
-
Cucumber Extract (Cuvitus)
150.0 mg
-
Turmeric Extract (B-Cyclodextrin, Hydrogenated Curcuminoids)
50.0 mg
-
Bioperin Black Pepper Extract
10.0 mg
-