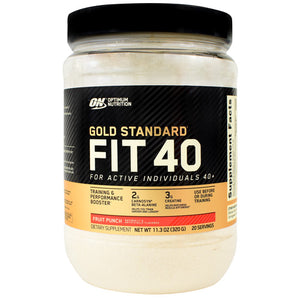 Details:
For Active Individuals 40+. Training and Performance Booster. 2g CarnoSyn Beta-Alanine. Helps You Train Harder And Longer. 3g Creatine. Helps Replenish Muscle ATP Energy. Use Before or During Training. Why Gold Standard Fir 40? Calcium HMB, A Metabolite of the Amino Acid Leucine, Can Help Support Muscle Strength and Recovery. Carnosyn Beta-Alanine Is A Non-Essential Amino Acid That Supports Carnosine Synthesis And Endurance; It Helps You Train Harder And Longer. Peako2 Helps Support Performance during Training. Vitamin D Supports Muscle and Bone Health. Creatine Helps To Replenish Your Muscle ATP Energy Stores That Can Be Depleted During High Intensity Training.
Ingredients:
Malic Acid, Natural And Artificial Flavor, Citric Acid, Calcium Silicate, Silicon Dioxide, Tartaric Acid, Gum Blend (Cellulose Gum, Xanthan Gum, Carrageenan), Sucralose, Red 40.
Directions:
Mix 16 Grams (About 1 Scoop) With 8-12 Fluid Ounces Of Cold Water Before Or During Exercise. Suggested Use: Intended For Use In Healthy Adults And As Part Of A Healthy, Balanced Diet And Exercise Program.
Warnings:
Consult Your Physician before Using This Product If You Are Taking Any Medications or Are under a Physician's Care for a Medical Condition. Not For Use By Those Under The Age Of 18 Or Women Who Are Pregnant, Trying To Get Pregnant, Or Nursing.
Nutrition Facts
Serving Size: 1 Scoop
Servings Per Container: 20
 
Amount Per Serving
Name
Serving
% Daily Value
Calories
10.0
-
Sodium
35.0 mg
2.0%
Total Carbohydrate
3.0 g
1.0%
Dietary Fiber
-1.0 g
-
Calcium
480.0 mg
37.0%
Vitamin D (as Cholecalciferol)
20.0 mcg
100.0%
Creatine Monohydrate
3.0 g
-
CarnoSyn Beta Alanine
2.0 g
-
Calcium HMB (Calcium B-Hydroxy B-Methylbutyrate monohydrate)
3.0 g
-
Mushroom Blend
2.0 g
-
Mushroom Blend
(Cordyceps (Cordyceps militaris), Reishi (Ganderma lucidum), King's Trumpet (Pleurotus eryngii), Shitake (Lentinula edides), Lion's MAne (Hericium ernaceus), Turkey Tail (Trametes versicolor) as PeakO2).
 
Arginine Silicate-Inositol (Nitrosigine)
750.0 mg
-
elevATP (Ancient Peat, Apple Extract)
150.0 mg
-