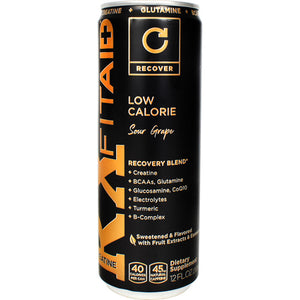 Details:
Low Calorie. Recovery RX Blend: Creatine, BCAAs, Glutamine, Glucosamine, COQ10, Electrolytes, Turmeric, B-Complex. Sweetened & Flavored with Fruit Extracts & Essences. 40 Calories Per Can. 45mg Natural Caffeine. Vitamins You'll Enjoy Drinking. Vegan. Kosher. Paleo Friendly. Gluten-Free.
Ingredients:
Carbonated Water, Certified Raw Organic Blue Agave Nectar, Natural Flavors, Citric Acid, Colored With Fruit And Vegetable Juice, Organic Reb A (Stevia Extract).
Warnings:
Not Recommended For Children Under 12 Or Women While Nursing Or Pregnant. Keep Out Of Reach Of Children. Consult Your Physician Before Starting Any Supplement Regimen.
Nutrition Facts
Serving Size: 1 Can
Servings Per Container: 12
 
Amount Per Serving
Name
Serving
% Daily Value
Calories
40.0
-
Total Carbohydrate
9.0 g
3.0%
Sugars
7.0 g
-
Riboflavin
1.7 mg
131.0%
Biotin
150.0 mcg
500.0%
Thiamin (as Thiamine Mononitrate)
1.5 mg
125.0%
Vitamin D3 (as Cholecalciferol)
5.0 mcg
25.0%
Potassium (as Potassium Phosphate)
60.0 mg
1.0%
Magnesium (as Magnesium Lactate)
40.0 mg
10.0%
Pantothanic Acid (as d-calcium pantothenate)
10.0 mg
200.0%
Calcium (as Calcium Lactate Gluconate)
30.0 mg
2.0%
Vitamin E (as D Alpha Tocopheryl Acetate)
28.6 mg
179.0%
Vitamin C (Absorbic Acid)
50.0 mg
56.0%
Niacin ( as niacinamide)
20.0 mg
125.0%
Vitamin B12 ( as Methylcobalamin)
12.0 mcg
500.0%
Vitamin B6 (as Pyidoxine Hydrochloride)
2.0 mg
118.0%
Proprietary Blend
1848.0 mg
-
Proprietary Blend
Creatine monohydrate, Green tea extract (leaves), L-Arginine hydrochloride, L-Glutamine, D-Glucosamine hydrochloride, L-Leucine, Quercetin, L-Isoleucine, L-Valine, Coenzyme Q10, Turmeric extract (root), Docosahexaenoic acid (algae)