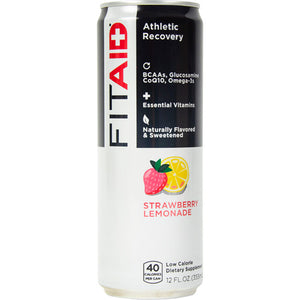 Details:
The FITAID Recovery Blend has essential nutrients for your body—train hard, recover clean! With BCAAs & ingredients your body needs right after the gym, biking, hiking, running, your favorite outdoor activity or exercise. 40 Calories, Certified Non-GMO Tested, Vegan, Paleo Friendly, No Sodium, Certified Gluten-Free, Kosher. Never any artificial flavors or sweeteners. Only The Good Stuff, None Of the Junk. FITAID Strawberry Lemonade delivers BCAAs, L-Glutamine, L-Arginine, Vitamins C & D3, B-Complex, Turmeric, CoQ10 and Omega-3s. FITAID Strawberry Lemonade keeps you on the move.
Ingredients:
Carbonated water, Organic agave nectar, Natural flavors, Citric acid, Malic acid, Organic stevia leaf extract (Reb A)
Warnings:
Not Recommended For Children Under 12 Or Women While Nursing Or Pregnant. Keep Out Of Reach Of Children. Consult Your Physician Before Starting Any Supplement Regimen.
Nutrition Facts
Serving Size: 1 Can
Servings Per Container: 12
 
Amount Per Serving
Name
Serving
% Daily Value
Calories
40.0
-
Total Carbohydrate
9.0 g
3.0%
Riboflavin
1.3 mg
100.0%
Biotin
120.0 mcg
400.0%
Vitamin B6 (Pyridoxine Hydrochloride)
1.7 mg
100.0%
Vitamin C (as Ascorbic Acid)
23.0 mg
25.0%
Niacin (as Niacinamide)
16.0 mg
100.0%
Pantothenic Acid (as D-Calcium Pantothenate)
5.0 mg
100.0%
Thiamin (as Thiamine Mononitrate)
1.2 mg
100.0%
Vitamin D3 (as Cholecalciferol)
4.0 mcg
20.0%
Vitamin E (D-Alpha Tocopheryl Acetate)
15.0 mg
100.0%
Potassium (as Potassium Phosphate)
50.0 mg
1.0%
Vitamin B12 (as Methylcobalamin)
9.0 mcg
375.0%
Magnesium (as Magnesium Lactate)
25.0 mg
6.0%
Total Sugars
7.0 g
14.0%
Total Sugars
Includes 7g Added Sugars
 
Calcium (calcium lactate gluconate)
20.0 mg
2.0%
Proprietary Blend
848.0 mg
-
Proprietary Blend
Green tea extract (leaves). L-Arginine hydrochloride. L-Glutamine. D-Glucosamine hydrochloride. L-Leucine. Quercetin. L-Isoleucine. L-Valine. Coenzyme Q10. Turmeric extract (root). Docosahexaenoic acid (algae).