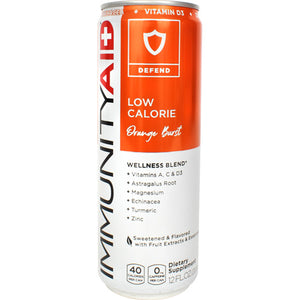 Details:
Low Calorie. Wellness Blend: Vitamins A, C, and D3, Astragalus Root, Turmeric, Zinc. Sweetened & Flavored with Fruit Extracts & Essences. 40 Calories Per Can. 0mg Per Caffeine. Vitamins You'll Enjoy Drinking. Vegan. Kosher. Paleo Friendly. Gluten-Free.
Ingredients:
Carbonated Water, Certified Raw Organic Blue Agave Nectar, Natural Flavors, Citric Acid, Organic Reb A (Stevia Extract).
Warnings:
Not Recommended For Children Under 12 Or Women While Nursing Or Pregnant. Keep Out Of Reach Of Children. Consult Your Physician Before Staring Any Supplement Regimen.
Nutrition Facts
Serving Size: 1 Can
Servings Per Container: 12
 
Amount Per Serving
Name
Serving
% Daily Value
Calories
45.0
-
Total Carbohydrate
11.0 g
4.0%
Sugars
9.0 g
-
Vitamin C (Ascorbic Acid)
1000.0 mg
1667.0%
Vitamin D3 (as Cholecalciferol)
15.0 mcg
75.0%
Magnesium (as Magnesium Lactate)
300.0 mg
71.0%
Vitamin A (retinol palmitate)
5000.0 IU
100.0%
Zinc (zinc sulphate)
20.0 mg
182.0%
Proprietary Blend
381.0 mg
-
Proprietary Blend
L-Arginine, Echinacea purpurea extract (aerial parts), Turmeric extract (root), Astragalus extract (root), Piperine extract (black pepper fruit).