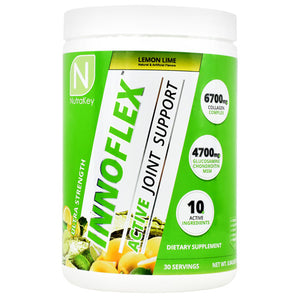 Details:
Ultra Strength. Active Joint Support. 6700mg Collagen Complex. 4700mg Glucosamine Chondroitin MSM. 10 Active Ingredients. Non GMO. Gluten Free. Dye Free. BPA Free. Paraben Free. Daily Joint and Tissue Support. Active Support for Joint Comfort. Key Structural Components Play An Essential Role In Joint Health. Collagen: The 'Cement' Which Holds Together the Skin, Cartilage, Ligaments, Tendons, and Arteries. Hyaluronic Acid: Integral Component Of Synovial Fluid Surrounding Joints, Primarily Functions As Lubrication. Glucosamine: An Amino Sugar That Is Found In Healthy Joints, Particularly In the Fluid around the Joints. Chondroitin: Is Naturally Found In Cartilage, Tendons, And Ligaments Where It Binds To Proteins Like Collagen And Elastin. MSM (Methylsufonylmethane): One of the Major Building Blocks Of Glycosaminoglycans. Glycosaminoglycans Are Key Structural Components In Cartilage That Paly An Important Role In The Maintenance Of Healthy Joint Tissue. Vitamin C, L-Lysine, L-Proline: Play An Essential Role In The Formation Of Healthy Collagen And Cartilage. Together, These Nutrients Help Build The Dietary Foundation For Healthy Joint Tissue.
Ingredients:
Citric Acid, Natural and Artificial Flavors, Sucralose, Silicon Dioxide, Malic Acid.
Directions:
When To Take: Mornings: Mix 1 Scoop With 8-10 Oz Of Water Before Breakfast For Best Absorption. Between Meals: For Enhanced Support, Mix 1 Scoop with 8-10 Oz Water Mid-Day On An Empty Stomach. Do Not Exceed 2 Scoops Daily.
Warnings:
Allergen: Contains Glucosamine Obtained From Shellfish (Shrimp, Crab, Lobster, Crayfish).
Nutrition Facts
Serving Size: 1 Scoop
Servings Per Container: 30
 
Amount Per Serving
Name
Serving
% Daily Value
Glucosamine Sulfate
1500.0 mg
-
Chondroitin Sulfate
1200.0 mg
-
MSM (Methylsulfonylmethane)
2000.0 mg
-
Collagen Complex
6700.0 mg
-
Collagen Complex
Collagen (5000mg), L-Proline (1000mg), L-Lysine (375mg), Calcium LActate (150mg), Vitamin C (as Ascorbic Acid) (100mg) 110%, MAgnesium Oxide (50mg), Hyaluronic ACid (25mg).