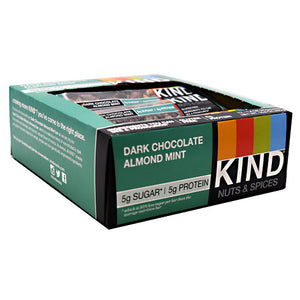 Details:
Gluten Free. Low Glycemic Index. No Sugar Alcohols. Dairy Free. No Genetically Engineered Ingredients. Very Low Sodium. 0g Trans Fat. High in Fiber. Ingredients You Can See & Pronounce. Our Nuts & Spices bars have to meet a strict standard: 5g of sugar or less. And full of delicious flavor, they seem too good to be true. But made from simple and whole ingredients, they're a snack that only tastes indulgent. Do the Kind Thing for Your Body, Your Taste Buds & Your World: Welcome to the KIND community! Here at KIND, we think a little differently. Instead of "or" we say "and." We choose healthy and tasty, convenient and wholesome, economically sustainable and socially impactful. From the snacks and foods we make, to the way we work, live, and give back, our goal is to make KIND not just a brand, but also a state of mind and community to make the world a little kinder. We call this the KIND Movement, which has inspired millions of unexpected acts of kindness around the world. Join us as kindmovement.com. Kindly yours, Daniel Lubetzky, KIND Founder.
Ingredients:
Almonds, Cashews, Dark Chocolate Flavored Coating (Palm Kernel Oil, Chicory Root Fiber, Sugar, Cocoa Powder, Soy Lecithin, Natural Flavor, Salt, Peppermint Oil), Chicory Root Fiber, Honey, Glucose Syrup, Rice Flour, Unsweetened Chocolate, Madagascar Vanilla, Soy Lecithin, Peppermint Extract, Sugar, Sea Salt, Peppermint Leaves.
Warnings:
Contains almonds, cashews, and soy. Made in a facility that processes peanuts, tree nuts, and sesame seeds. May contain nut shell fragments. Store in a cool, dry place.
Nutrition Facts
Serving Size: 1 bar
Servings Per Container: 12
 
Amount Per Serving
Name
Serving
% Daily Value
Calories
200.0
-
Calories from Fat
130.0
-
Total Fat
15.0 g
23.0%
Saturated Fat
3.5 g
18.0%
Trans Fat
0.0 g
-
Polyunsaturated Fat
3.0 g
-
Monounsaturated Fat
8.0 g
-
Cholesterol
0.0 mg
-
Sodium
20.0 mg
1.0%
Potassium
200.0 mg
6.0%
Dietary Fiber
6.0 g
24.0%
Sugar
5.0 g
-
Protein
5.0 g
-
Vitamin A
-
Vitamin C
-
Calcium
4.0%
Iron
10.0%
Vitamin E
15.0%
Phosphorus
15.0%
Magnesium
20.0%
Copper
20.0%
Manganese
20.0%
Vitamin B2
10.0%
Total Carb.
17.0 g
6.0%