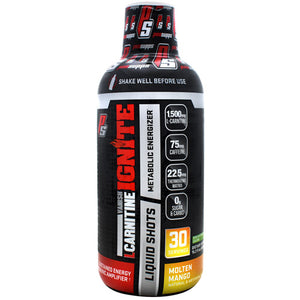 Details:
Sustained Energy Thermogenic Amplifier. Liquid Shots. Metabolic Energizer. 1500mg L-Carnitine. 75mg Caffeine. 22.5mg Thermogenic Matrix. 0g Sugar and Carbs. Zero Artificial Colors. When We Started ProSupps We Were A Small Group Of Dudes Groomed By Iron That Were Tired Of Sports Nutrition Products Built By People Behind Desks And Not Behind Squat Racks. We Believed We Could Do It Better, By Building Best-In-Class Products That Bodybuilders, Performance Athletes And Fitness Fanatics Like Us Wanted. Today, ProSupps Is An Army Of Competitors And Believers, Whose Purpose Is Simple-To Unlock The Alpha In Each One Of Us. Gluten Free. Tastes Best Cold.
Ingredients:
Purified Water, Phosphoric Acid, Natural And Artificial Flavors, Citric Acid, Malic Acid, Sucralose, Potassium Sorbate, Sodium Benzoate.
Directions:
Suggested Use: Use 1 Serving Of Vanish L-Carnitine Ignite Liquid Once Per Day. For Advanced Users, Take Up To 2 Servings Per Day. Shake Container Well Before Every Use.
Warnings:
This Product Is Intended For Healthy Adults, 18 Years of Age or Older. Consult A Physician Prior To Use If You Have Any Medical Condition Or Take Any Medications. This Product Contains The Caffeine Equivalent Of One Cup Of Coffee. Do Not Use Within 4 Hours of Bedtime. Use As Directed. Keep Out Of Reach Of Children.
Nutrition Facts
Serving Size: 1 Tablespoon
Servings Per Container: 30
 
Amount Per Serving
Name
Serving
% Daily Value
Calories
0.0
-
Total Carbohydrate
0.0 g
-
Pantothenic Acid
10.0 mg
200.0%
L-Carnitine
1500.0 mg
-
Caffeine Anhydrous
75.0 mg
-
Total Sugars, Includes 0g Added Sugars
0.0 g
-
Ignite Thermogenic Matrix
22.5 mg
-
Ignite Thermogenic Matrix
Evodiamine 98% (Evodia rutaecarpa) (fruit) 10mg, CaloriBurn GP (Aframomum melegueta) (6-paradol 12%) (seed) 10mg, BioPerine Black Pepper (piper nigrum) Extract (95% piperine) (fruit). 2.5mg.