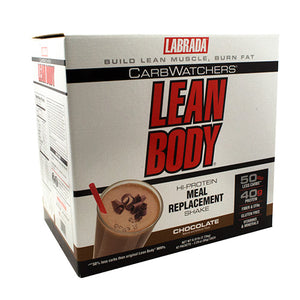 Details:
CarbWatchers Lean Body hi-protein reduced carb meal replacement shakes provide quick, delicious lean muscle nutrition for active people. Enjoy Lean Body's smooth, creamy, award winning taste! CarbWatchers Lean Body satisfies your appetite and makes you feel great without a lot of carbohydrates. Use CarbWatchers Lean Body in conjunction with your exercise program to help you build lean muscle and burn fat. Delicious Taste! CarbWatchers Lean Body may be the best tasting meal replacement powder (MRP) ever made. That's why the American Culinary Institute awarded Lean Body a Gold Medal Taste Award. 65/20/15 (Protein/Carbohydrate/Fat) ratio of macronutrients consisting of highly bio-available protein, high-fiber complex carbohydrates, and essential fatty acids, to support lean muscle growth, strength, and higher energy, all day long! 40g of LeanPro high-quality protein to provide lean muscle support. Over 7,000mg of BCAAs (Branched Chain Amino Acid) for muscle tissue support. Over 8000mg of Glutamine and Glutamic Acid to promote recovery. 12 grams of an advanced blend of low-glycemic, high-fiber carbohydrates to help stabalize your blood sugar and insulin levels, to promote greater energy and fat burning. 4 grams of FiberPlex Dietary Fiber per serving to support intestinal health. 4 grams EFA-Plex containing natural-source fatty acids, medium-chain triglycerides, flaxseed oil, and borage oil. No Trans Fat. Contains 21 vitamins and minerals. No artificial colors or preservatives. No Aspartame. No Maltodextrin. Gluten Free.-----Typical Amino Acids Profile/ BCAAs (per serving)----Alanine 1500 mg, Arginine 1200 mg, Aspartate 3400 mg, Cystine 500 mg, Glutamate 7200 mg, Glycine 700 mg, Histidine 1000 mg, Isoleucine 2100 mg, leucine 4000 mg, lysine 3200 mg, Methionine 1100 mg, Phenylalanine 1900 mg, Proline 3200 mg, Serine 2200 mg, Threonine 2000 mg, tryptophan 600 mg, tyrosine 1800 mg, Valine 2400 mg. Gluten Free.
Ingredients:
LeanPro (Cross Flow Micro Ultrafiltered Whey Protein Isolate, Cross Flow Micro Ultrafiltered Whey Protein Concentrated), Cocoa (processed with alkali), Natural and Artificial Flavors, EFA Plex (Sunflower Oil, Creamer [High Oleic Sunflower Oil, Corn Syrup Solids, Sodium Caseinate, Mono- and Diglycerides, Dipotassium Phosphate, Tricalcium Phosphate, Soy Lecithen, Tocosherols], MCT Oil, Flaxseed Oil, Borage Oil), Fiber Plax (Polydextrose, Fibersol 2 Fiber, Cellulose Gum, Oat Flour, Rice Bran), Vitamin and Mineral Blend (Di-Calcium Phosphate, Magnesium Oxide, Ascorbic Acid, Vitamin E Acetate, Niacinamide, Electrolytic Iron, Zinc Oxide, D-Calcium Pantothenate, Pyridoxine Hydrochloride, Copper Gluconate, Riboflavin, Vitamin A Acetate, Thiamin Mononitrate, Folic Acid, Potassium Iodide, Cyanocobalamin), Salt, Acesulfame Potassium, Sucralose.
Directions:
For weight Management, replace 1 daily meal with a packet. To build muscle, add 1-2 packets to your daily food intake. Use 10 oz. of water or your favorite beverage. Add 1 packet (65g) of CarbWatchers Lean Body and mix in a blender or shaker.
Warnings:
Allergen Information: Contains milk, soy (Lecithin).
Nutrition Facts
Serving Size: 1 packet
Servings Per Container: 42
 
Amount Per Serving
Name
Serving
% Daily Value
Vitamin D
25.0%
Vitamin E
25.0%
Thiamin
25.0%
Riboflavin
25.0%
Chloride
8.0%
Niacin
25.0%
Vitamin B6
25.0%
Folate
25.0%
Vitamin B12
25.0%
Biotin
25.0%
Pantothenic Acid
25.0%
Phosphorus
45.0%
Iodine
25.0%
Magnesium
35.0%
Zinc
30.0%
Copper
40.0%
Calories
240.0
-
Calories from Fat
40.0
-
Total Fat
4.0 g
6.0%
Saturated Fat
1.5 g
7.0%
Trans Fat
0.0 g
-
Cholesterol
25.0 mg
9.0%
Sodium
400.0 mg
17.0%
Potassium
480.0 mg
14.0%
Total Carbohydrate
12.0 g
4.0%
Dietary Fiber
5.0 g
18.0%
Sugars
1.0 g
-
Protein
40.0 g
80.0%
Vitamin A
25.0%
Vitamin C
25.0%
Calcium
50.0%
Iron
40.0%