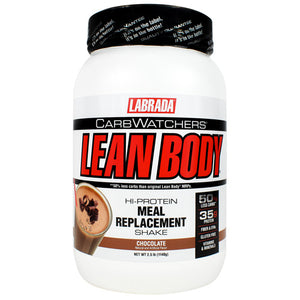 Details:
50% Less Carbs than Original Lean Body MRPs. Hi-Protein Meal Replacement Shake. 35 G Protein. Fiber & EFAs. Gluten Free. Vitamins & Minerals. CarbWatchers Lean Body Hi-Protein Meal Replacement Shakes Provide Convenient and Delicious Nutrition with Less Carbohydrates than Our Original Lean Body MRPs. You'll Feel Great When You Use CarbWatchers Lean Body in Conjunction with an Exercise and Nutrition Program. Delicious Taste. 22 Vitamins and Minerals. Healthy Digestion. Gluten Free. Only 1g Sugar. CarbWatchers Lean Body Contains High Quality Protein, Complex Carbohydrates, Essential Fatty Acids, Fiber, Vitamins, And Minerals. It's A Balanced Meal Replacement Shake That Can Help You Support Your Nutritional Goals. CarbWatchers Lean Body Is Free From Artificial Colors, Preservatives, And Trans Fats. "If it's On the Label, It's In the Bottle."
Ingredients:
Whey Protein Isolate, Whey Protein Concentrate, Dutched Cocoa, Non-Dairy Creamer (Sunflower Oil, Corn Syrup Solids, Sodium Caseinate (Milk), Mono-And Diglycerides, Dipotassium Phosphate, Tricaclium Phosphate, Soy Lecithin, Tocopherols), Natural And Artificial Flavors, Vitamin And Mineral Blend (Di-Calcium Phosphate, Magnesium Oxide, Ascorbic Acid, Vitamin E Acetate, Niacinamide, Electrolytic Iron, Zinc Oxide, D-Caldium Pantothenate, Pyridoxine Hydrochloride, Copper Gluconate, Riboflavin, Vitamin A Acetate, Thiamin Mononitrate, Folic Acid, Potassium Iodide, Cyanocobalamin), Polydextrose, Fibersol-2 Fiber, Cellulose Gum, Salt, Medium Chain Triglycerides, Acesulfame Potassium , Sucralose.
Directions:
As A Nutritional Supplement, Replace 1 Daily Meal With A Serving. To Build Muscle, Add 1-2 Servings To Your Daily Food Intake. Use 8-10 Oz. Of Water or Your Favorite Beverage. Add 1 Serving (57g) Of CarbWatchers Lean Body and Mix In A Blender Or Shaker.
Warnings:
Contains Milk, Soy (Lecithin). Note: Notice: Use This Product As A Food Supplement Only. Do Not Use For Weight Reduction.
Nutrition Facts
Serving Size: 1 Scoop
Servings Per Container: 19
 
Amount Per Serving
Name
Serving
% Daily Value
Sodium
350.0 mg
15.0%
Total Carbohydrate
11.0 g
4.0%
Dietary Fiber
4.0 g
15.0%
Protein
35.0 g
70.0%
Vitamin A
350.0 mg
40.0%
Vitamin C
19.0 mg
20.0%
Calcium
430.0 mg
30.0%
Iron
6.7 mg
35.0%
Vitamin D
3.0 mcg
15.0%
Vitamin E
7.0 mg
45.0%
Riboflavin
0.3 mg
20.0%
Chloride
53.0 mg
2.0%
Niacin
3.5 mg
20.0%
Vitamin B6
0.35 mg
20.0%
Folate
76.0 mcg DFE
20.0%
Vitamin B12
0.5 mcg
20.0%
Biotin
6.0 mcg
20.0%
Pantothenic Acid
1.0 mg
20.0%
Phosphorus
275.0 mg
20.0%
Iodine
30.0 mcg
20.0%
Magnesium
120.0 mg
30.0%
Zinc
7.0 mg
65.0%
Copper
0.3 mg
35.0%
Total Sugars, Includes 0g Added Sugars
1.0 g
-
Calories
210.0
-
Total Fat
3.5 g
5.0%
Saturated Fat
1.0 g
6.0%
Trans Fat
0.0 g
-
Cholesterol
22.0 mg
7.0%