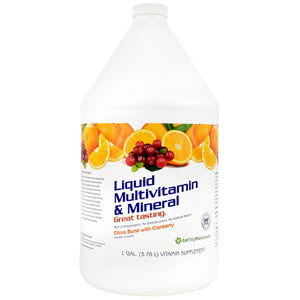 Details:
Great Tasting. Rich in Antioxidants. No Artificial Colors. No Artificial Flavors. Multivitamins Are The Building Blocks That Fuel Your Body. They Are A Combination Of Important Daily Nutrients That Your Body Depends On To Operate At Its Peak. They Build Your Immune System Functions, Support Strong Bones And Tissue, Help With Muscle Building And Repair, Reduce Stress And Increase Mental Clarity. 1st Step Pro-Wellness Liquid Multivitamin And Mineral Supplement Is Made With Highest Pharmaceutical Grade Vitamins And Minerals Available With 100% Pure Water. Not Only Are They Of The Highest Quality, Also Taste Great! And Because Your Body Absorbs Nearly 95% Of Liquid Vitamins, Each Morning You'll Feel Confident Knowing You're Giving Your Body Its Best Start. Live Healthy. Be Healthy. 1st Step Pro-Wellness Has Been Supplying Nutritional Supplements To Professional, Olympic And Collegiate Athletes Since 2001. Improving The Performance And Overall Health Of Athletes Has Been Our Vision. Now Our Vision Is Focused In You. Combining Our Experience And Unique Formulas Into A New, Complete Line Of Supplements, We Are Committed To Your Overall Health And Vitality. Owned And Operated By Family And Friends, We Want You To Live Healthy And Be Healthy.
Ingredients:
Purified Water, Fructose, Citric Acid, Potassium Sorbate, Sodium Citrate, Natural Cranberry Flavor.
Directions:
1-Ounce Serving Size. Shake Well Prior to Consumption. Take One Fluid Ounce Daily. Remove Seal. Press Pump Fully To Dispense One Fluid Ounce Serving. Shake Well Before Using. For Optimum Taste, Refrigerate After Opening.
Warnings:
Caution: Consult A Health Care Practitioner Prior To Use If You Are Taking Blood Thinners. Keep Out Of Reach Of Children. Intended For Adult Use Only. Warning: Accidental Overdose Of Iron-Containing Products Is A Leading Cause Of Fatal Poisoning In Children Under 6. Keep This Product Out Of The Reach Of Children. In Case Of Accidental Overdose, Call A Doctor Of Poison Control Center Immediately.
Nutrition Facts
Serving Size: 1 fl. oz.
Servings Per Container: 128
 
Amount Per Serving
Name
Serving
% Daily Value
Calories
18.0
-
Calories from Fat
0.0
-
Total Fat
0.0
-
Sodium
8.0 mg
3.0%
Sugars
4.0 g
-
Zinc (Zinc Sulfate)
0.5 mg
5.0%
Vitamin C (Ascorbic Acid)
90.0 mg
100.0%
Magnesium (Magnesium Citrate)
2236.0 mg
56.0%
Chromium (Chromium Chloride)
35.0 mcg
100.0%
Vitamin D3 (Cholecalciferol)
20.0 mcg
100.0%
Iodine (Potassium Iodine)
150.0 mcg
100.0%
Vitamin A (10% as Beta-Carotene)
900.0 mcg
100.0%
Vitamin E (Alpha Tocopherol Acetate)
15.0 mg
100.0%
Iron (Ferrous Gluconate)
0.1 mg
1.0%
Selenium (Selenium Amino Acid Chelate)
55.0 mcg
100.0%
Vitamin B-3 (Niacin)
16.0 mg
100.0%
Vitamin B-2 (Riboflavin)
1.3 mg
100.0%
Vitamin B-1 (Thiamine)
1.2 mg
100.0%
Calcium (Calcium Citrate)
44.0 mg
3.0%
Manganese (Manganese Amino Acid Chelate)
2.3 mg
100.0%
Vitamin B-5 (Pantothenic Acid)
5.0 mg
100.0%
Vitamin B-6 (Pyrodixine)
1.7 mg
100.0%
Vitamin B7 (Biotin)
30.0 mcg
100.0%
Vitamin B12 (Cyanacobalamin)
2.4 mcg
100.0%
Vitamin B9 ( as Folic Acid)
400.0 mcg
100.0%