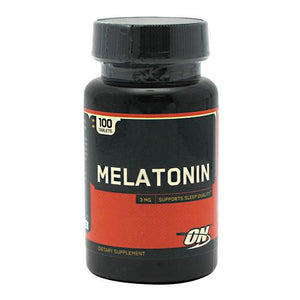 Details:
3 mg Supports Sleep Quality.
Ingredients:
Dicalcium Phosphate, Lactose, Stearic Acid, Magnesium Stearate, Croscarmellose Sodium (disintergrant), Silica.
Directions:
As a dietary supplement, take 1 tablet 30-60 minutes before bedtime.
Warnings:
KEEP OUT OF REACH OF CHILDREN. May cause excessive drowsiness. Do not exceed recommended dosage or take this product less than 5 hours before driving a motor vehicle or operation machinery. Check with a qualified healthcare professional before using this product if you are under 18 years of age. Pregnant or nursing a baby, or if you have any known or suspected medical condition(s) and/or are taking any prescription or OTC medication(s).
Nutrition Facts
Serving Size: 1 Tablet
Servings Per Container: 100
 
Amount Per Serving
Name
Serving
% Daily Value
Calcium
72.0 mg
8.0%
Phosphorus
55.0 mg
6.0%
Melatonin
3.0 mg
-