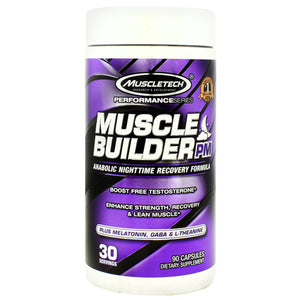 Details:
Muscletech Research & Development. Performance Series. Muscle Builder PM. Anabolic Nighttime Recovery Formula. Boost Free Testosterone. Enhance Strength, Recovery & Lean Muscle. Plus Melatonin, GABA, And L-Theanine. Muscle Builder PM Is A Complete Nighttime Recovery And Musclebuilding Product. This Powerful Formula Features Multiple Clinical Studied Ingredients Shown To Help You Recover, Optimize Your Testosterone-To-Estradiol Ratio And Build More Lean Muscle. Build Learn Muscle With Cindura. Muscle Builder PM Contains A New, Botanically Derived Musclebuilder Called Cindura. It Works By Facilitating Muscle Energy Production And Promoting Muscle Growth While Preventing Muscle Breakdown. In Fact, In A 6-Week, Randomized, Double-Blind, Placebo-Controlled Study, Subjects Taking Cindura While Following A Weight Training Program Built Significantly More Lean Muscle (Average Of 5 Lbs. Vs. Just 1.1 Lbs. With The Placebo Group). Boost Testosterone & Decrease Estradiol. A Key Ingredient In Muscle Builder PM Has Been Shown In A Double-Blond, Placebo-Controlled Study To Increase Free Testosterone And Reduce Estradiol In Only 7 Days. Improve Muscular Recovery. To Aid In Muscular Recovery, Muscle Builder PM Also Includes A Clinical Dose Of Tart Cherry, Which Has Been Shown In Scientific Research To Improve Recovery Through The Reduction Of Muscle Soreness Post-Workout. With GABA, Melatonin, & L-Theanine. Muscle Builder PM Includes A Comprehensive Blend Of Nighttime Ingredients, Such As Melatonin, GABA, L-Theanine, Valeriana Offcinalis, Magnesium And More.
Ingredients:
Ingredients: Capsule (Gelatin, Titanium Dioxide), Magnesium Stearate, Silicon Dioxide.
Directions:
Directions: Take 1 Serving (3 Capsules) Once Daily Before Bed. Do Not Exceed 3 Capsules Per Day. Store In A Cool, Dry Place.
Warnings:
Warning: Not Intended For Use By Persons Under 18. Do Not Use If Pregnant Or Nursing. Consult A Medical Doctor If You Have A Medical Condition Or Before Starting Any Diet Or Exercise Program. Do Not Use With Caffeine Or Combine With Other Sources Of Melatonin. Do Not Use In Conjunction With Alcoholic Beverages, When Driving A Vehicle Or When Operating Machinery. Keep Out Of Reach Of Children. Do Not Use If Packaging Has Been Tampered With.
Nutrition Facts
Serving Size: 3 Capsules
Servings Per Container: 30
 
Amount Per Serving
Name
Serving
% Daily Value
Magnesium (as Magnesium Aspartate)
150.0 mg
38.0%
Vitamin D (as Chloecalciferol)
400.0 IU
100.0%
Musclebuilding + Recovery Matrix
-
Musclebuilding + Recovery Matrix
CinDura (Cinnamomum tamala leaf extract and Garcinia mangostana fruit ring extract): 800mg, Tart cherry extract (as Prunus cerasus) (fruit): 480 mg, Boron citrate (supplying 5% boron): 200mg, Sensori Ashwagandha extract (as Withania somnifera) (root and leaf): 125mg.
 
Nighttime Aid
-
Nighttime Aid
Valerian extract (as Valerian officinalis) (root): 100 mg, GABA (gamma-aminobutyric acid): 100 mg, L-theanine: 100 mg, Lemon balm extract (as Melissa officinalis) (whole herb): 100 mg, Melatonin: 5 mg.