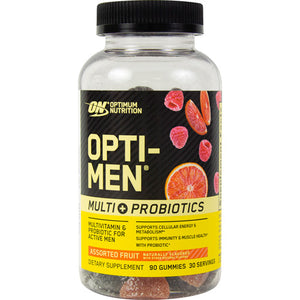 Details:
Multivitamin & Probiotic for Active Men. Supports Cellular Energy & Metabolism. Supports Immunity & Muscle Health. with Probiotic. B Vitamins support the breakdown and transport of nutrients.
Ingredients:
Glucose, Sugar, Gelatin, Natural Flavor, Fruit and Vegetable Juice and Annatto Colors, Citric Acid, Corn Starch.
Directions:
Consume 3 gummies. Chew Completely Before Swallowing. Suggested Use: Intended For Use in Healthy Adults and As Part of a Healthy, Balanced Diet and Exercise Program.
Warnings:
Consult Your Physician Before Using This Product If You Are Taking Any Medications Or Are Under A Physician's Care For A Medical Condition. Not For Use By Those Who Are Under The Age Of 18 Or Women Who Are Pregnant, Trying To Get Pregnant, Or Are Nursing.
Nutrition Facts
Serving Size: 3 Gummy
Servings Per Container: 30
 
Amount Per Serving
Name
Serving
% Daily Value
Vitamin C (as Ascorbic Acid)
113.0 mg
126.0%
Vitamin D (as Cholecalciferol)
25.0 mcg
125.0%
Zinc (as Zinc Citrate)
5.5 mg
50.0%
Inositol
40.0 mcg
-
Niacin (as Niacinamide)
8.0 mg
50.0%
Chromium (as Chromium Picolinate)
17.5 mcg
50.0%
Thiamin (as Thiamin Hydrochloride)
0.3 mg
25.0%
Iodine (as Potassium Iodide)
150.0 mcg
100.0%
Pantothenic Acid (as Calcium D-Pantothenate)
5.0 mg
100.0%
Selenium (as Sodium Selenite)
55.0 mcg
100.0%
Vitamin A (as Vitamin A Palmitate)
900.0 mcg
100.0%
Vitamin E (as D-Alpha Tocopheryl Succinate)
15.0 mg
100.0%
Total Sugars (includes 6g added sugars)
6.0 g
12.0%
Folate (176 mcg Folic Acid)
300.0 mcg
75.0%
Choline (as L-Choline Bitratrate)
0.6 mg
1.0%
Bacillus Coagulans (0.5 Billion CFU)
5.0 mg
-
Calories
35.0
-
Total Carbohydrate
8.0 g
3.0%
Protein
-1.0 g
-
Riboflavin
0.33 mg
25.0%
Biotin
30.0 mcg
100.0%
Vitamin B6 (as Pyridoxine Hydrochloride)
4.25 mg
250.0%
Vitamin B12 (as Cyanocobalamin)
6.0 mcg
250.0%