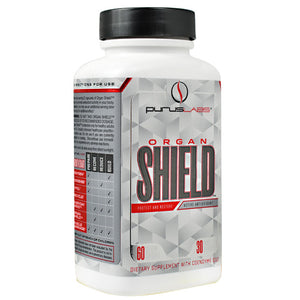 Details:
Protect And Restore. Active Antioxidant. 30 True Servings. Organ Shield Is A Unique Blend Of Antioxidants, Polyphenols, And Phytosterols Explicitly Formulated To Support Your Body's Vital Organs Against The Negative Side Effects Of Strenuous Training. This Free Radical Fighting Complex Can Help Protect, Support, And Promote Healthy Hepatic (Liver), Prostatic (Prostate), And Cardiovascular (Heart) Function Already Within Healthy Range. This Blend Of Specific Antioxidants, Flavonoids, And Phytonutrients Scavenges Free Radicals, Supporting Healthy Cell Development And Damaged Cell Repair. 365 Days A Year, Whether On-Season or Off-Season, This Is A Must for Any Serious Athlete.
Ingredients:
Gelatin, Magnesium Stearate, Silicon Dioxide, Guar Gum, Sodium Copper Chlorophyllin, Titanium Dioxide.
Directions:
Take 1 Serving (2 Capsules) Of Organ Shield Daily To Promote Antioxidant Activity In Your Body. If Desired, You May Use An Additional Serving Later In The Day For Additional Effect.
Warnings:
Do Not Take Organ Shield In Excess Of Its Recommended Dosage. Organ Shield Is Intended Only For Healthy Adults Over 18. Consult A Licensed Healthcare Practitioner Before Use. Do Not Use If You Are Currently Pregnant Or Nursing. Discontinue Use Immediately If You Experience Any Adverse Reactions. Store In A Cool, Dry Area Away From Direct Sunlight. Keep Out Of Reach Of Children.
Nutrition Facts
Serving Size: 2 Capsules
Servings Per Container: 30
 
Amount Per Serving
Name
Serving
% Daily Value
Coenzyme Q-10
100.0 mg
-
Quercetin
150.0 mg
-
Alpha Lipoic Acid
150.0 mg
-
N-Acetyl L-Cysteine (NAC)
250.0 mg
-
Saw Palmetto (Berry)
200.0 mg
-
Milk Thistle Extract (silybum marinum) (4:1) (seeds)
300.0 mg
-
Soy Seed Extract (std. min. 4% beta-sitosterol)
250.0 mg
-