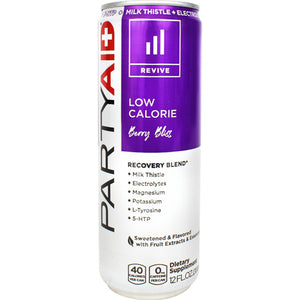 Details:
Low Calorie. Recovery Blend: Milk Thistle, Electrolytes, Magnesium, Potassium, L-Tyrosine, 5-HTP. Sweetened & Flavored with Fruit Extracts & Essences. 40 Calories Per Can. 0mg Per Caffeine. Vitamins You'll Enjoy Drinking. Vegan. Kosher. Paleo Friendly. Gluten-Free.
Ingredients:
Carbonated Water, Certified Raw Organic Blue Agave Nectar, Natural Flavors, Citric Acid, Colored with Fruit and Vegetable Juice, Organic Reb A (Stevia Extract)
Warnings:
Not recommended for children under 12 or women while nursing or pregnant. Consult your medical professional before starting any supplement regimen or prior to use if you have or suspect a medical condition or are taking prescription drugs including drugs for depression, migraines, Parkinson's' disease or psychiatric disorders. Do not use with other supplements containing L-Tryptophan or 5-HTP.
Nutrition Facts
Serving Size: 1 Can
Servings Per Container: 12
 
Amount Per Serving
Name
Serving
% Daily Value
Calories
40.0
-
Total Carbohydrate
9.0 g
3.0%
Sugars
7.0 g
-
Riboflavin
1.7 mg
131.0%
Biotin
300.0 mg
1000.0%
Niacin (Niacinamide)
20.0 mg
125.0%
Pantothenic Acid (D-Calcium Pantothenate)
25.0 mg
500.0%
Vitamin B6 (Pyridoxine Hydrochloride)
4.0 mg
235.0%
Vitamin C (as Ascorbic Acid)
25.0 mg
28.0%
Vitamin D3 (as Cholecalciferol)
1.0 mcg
5.0%
Selenium (as Sodium Selenite)
14.0 mg
25.0%
Vitamin B12 (Methylcobalamin)
12.0 mcg
500.0%
Potassium (as Potassium Phosphate)
70.0 mg
1.0%
Calcium (as Calcium Lactate Gluconate)
100.0 mg
8.0%
Thiamin (Thiamine Mononitrate)
1.5 mg
125.0%
Magnesium (Magnesium Lactate)
40.0 mg
10.0%
Proprietary Blend
190.0 mg
-
Proprietary Blend
5-HTP, Carnitine, L-Tyrosine, Milk Thistle Extract (from Seeds), Eleuthero Extract (from Roots)
 
Zinc (as Zinc Sulfate Monohydrate)
7.5 mg
68.0%