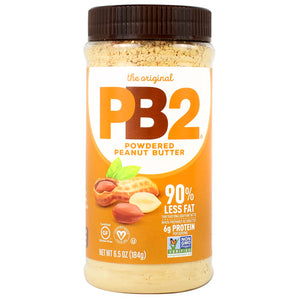 Details:
The Original. Powdered Peanut Butter. 90% Less Fat Than Traditional USDA Peanut Butter. When Prepared As Directed 6g Protein Per Serving. 60 Calories. Made With Non-GMO Ingredients. Gluten Free. Certified Vegan. Rich In Taste – Easy To Enjoy And Wonderfully Healthy. Pure And Simple. From The Day We Pioneered the Original Powdered Peanut Butter In 2007, We've Been on a Mission to Improve Our Community, Connect Framers to Families, And Inspire Healthy, and Balanced Living. Be Creative...Versatile and Easy To Use. Bake. Blend. Mix. PB2 Can Be Reconstituted With Any Liquid Of Choice-Water, Juice, Etc. To Make Smoothies Or Shakes, Eaten As A Powder, Or Used In Cooking And Baking. PB2 Is Light-Weight And Versatile Making It The Perfect Take-Along Food.
Ingredients:
Roasted Peanuts, Sugar and Salt.
Directions:
Directions: Mix 2 Tbsp. Of PB2 with A 1.5 Tbsp. Of Water and Stir until Smooth. Prepare As Needed. Shake Before Use. Clumps May Naturally Occur.
Warnings:
Contains: Peanuts.
Nutrition Facts
Serving Size: 2 tbsp
Servings Per Container: 14
 
Amount Per Serving
Name
Serving
% Daily Value
Calories
60.0
-
Total Fat
1.5 g
2.0%
Saturated Fat
0.0 g
-
Cholesterol
0.0 mg
-
Sodium
90.0 mg
4.0%
Potassium
150.0 mg
4.0%
Total Carbohydrate
5.0 g
2.0%
Protein
6.0 g
12.0%
Calcium
10.0 mg
-
Iron
0.4 mg
2.0%
Vitamin D
0.0 mcg
-
Fiber
1.0 g
4.0%
Total Sugars (Includes 1g Added Sugars)
2.0 g
2.0%