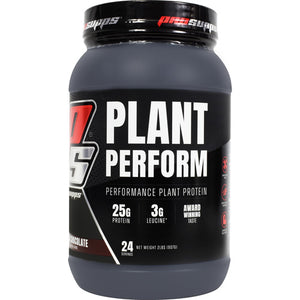 Details:
Performance Plant Protein. 25G Protein. 3G Leucine. Award Winning Taste. Enhances Muscle Repair. Improves Exercise Performance. Supports Lean Muscle Growth. The ProSupps Plant Perform Difference. Plant Perform is the first protein specifically designed for athletic performance, that just happens to be plant based. Plant Performs was developed to help you achieve your training goals by encouraging maximum protein synthesis anytime of day while providing quick healthy digestion. ProSupps Plant Perform's proprietary Flavor Smooth technology gives you the cream rich taste of a milkshake with all the health benefits of a plant-based protein. Training is hard work, drinking your protein shake shouldn't be. Tri-Source + is the combination of three complimentary sources of plant protein plus the addition of vegan L-Leucine providing an optimized and complete amino acid profile for immediate and sustained protein synthesis, that's easily digestible. The Anytime Protein. Tri-Source+ makes ProSupps Plant Perform truly a versatile, anytime protein. Enjoy as part of a nutritious breakfast to kick- start muscle protein synthesis, as a snack in-between meals, before & after training, as a meal replacement, and before bed to grow muscle while you sleep. There's a better you waiting to get out and if you're willing to put in the work, ProSupps is uniquely qualified to unleash your full potential. Having climbed to the top of the fitness mountain ourselves, we can show you how to get here through elite supplementation, education, and inspiration. We're here for your relentless pursuit of greatness, but nobody is going to do it for you. You have to EARN IT.
Ingredients:
Tri-Source+ Protein blend (pea protein isolate, rice protein concentrate, l-leucine, fava bean protein isolate), natural flavors, sodium chloride, gum blend (cellulose gum, xanthan gum, carrageenan), silicon dioxide, sucralose, acesulfame potassium.
Directions:
Mix 1 serving of Plant Perform in 10-12oz of cold water (adjust for taste and consistency) and mix thoroughly.
Warnings:
Manufactured in a facility that also processes milk, eggs, fish, shellfish, tree nuts, peanuts, wheat, soy. STORE IN A COOL, DRY PLACE. Protect from heat, light and moisture. Content sold by weight, not volume, some settling may occur. NOTICE: Do not use this product as a sole source of nutrition. KEEP OUT OF REACH OF CHILDREN.
Nutrition Facts
Serving Size: 1 Scoop
Servings Per Container: 24
 
Amount Per Serving
Name
Serving
% Daily Value
Calories
150.0
-
Total Fat
3.5 g
4.0%
Saturated Fat
1.0 g
5.0%
Trans Fat
0.0 g
-
Cholesterol
0.0 mg
-
Sodium
470.0 mg
20.0%
Potassium
201.0 mg
4.0%
Total Carbohydrate
3.0 g
1.0%
Dietary Fiber
1.0 g
4.0%
Protein
25.0 g
-
Calcium
49.0 mg
4.0%
Iron
7.0 mg
40.0%
Vitamin D
0.0 mg
-
Total Sugars (Include 0g Added Sugars)
0.0 g
-