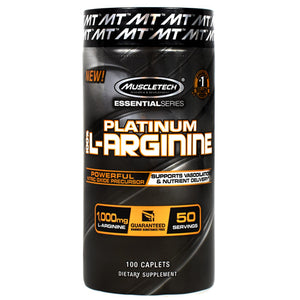 Details:
Powerful Nitric Oxide Precursor. Supports Vasodilation and Nutrient Delivery. 1,000mg L-Arginine. Guaranteed Banned Substance Free. 50 Servings. Superior Science. Superior Results. Muscletech Essential Series Delivers All Your Favorite Ingredients And Products With The Best Science, Taste And Value. Essential Series Products Are Staples For Every Athlete, With No Frills And No Fillers-Just Products You Can Trust Backed By The Best Brand In Sports Nutrition! Many Supplement Companies Don't Fully Disclose Their Ingredients. They Also Don't Invest In Science, Research Or Quality Control. At Muscletech, A Portion Of Every Dollar Spent On Supplements Is Allocated Towards Funding Scientific Research. This Means You Can Trust Essential Series for Superior Quality and Results, As Is the Muslcetech Promise. Powerful Nitric Oxide Precursor. The New Platinum 100% L-Arginine Delivers 1,000mg Of L-Arginine For Rapid Uptake And Dispersal In Your Body. Flooding Your Body With This Powerful Nitric Oxide Precursor Primes You For Enhanced Pumps, Blood Flow And Nutrient Delivery. Scientifically Advanced Formula. When You Train, Your Body Releases Calcium In The Endothelial Cells That Line Your Blood Vessels. This Causes The Enzyme Nitric Oxide Synthase To Create Nitric Oxide From Available L-Arginine. As The Nitric Oxide Leaves The Endothelial Cells, The Blood Vessels Relax, Causing Vasodilation. By Supplying A Massive Dose Of L-Arginine To Your Body, Platinum 100% L-Arginine Helps Trigger Extreme Nitric Oxide Production For Superior Vasodilation Effects And Massive Muscle Pumps.
Ingredients:
Microcrystalline Cellulose, Hydroxpropylcellulose, Stearic Acid, Coating (Polyvinyl Alcohol, Titanium Dioxide, Polyethylene Glycol, Talc), Silicon Dioxide, Acesulfame-Potassium.
Directions:
Take 1 Serving (2 Caplets) With A Glass Of Water Once Daily.
Warnings:
For Adult Use Only. Do Not Use If Pregnant Or Nursing. Do Not Use If You Have Had A Myocardial Infarction (Heart Attack). Do Not Refrigerate. For Use By Healthy Individuals Only. Consult A Doctor Before Use If You Have A Medical Condition And Before Starting A Diet Or Exercise Program. Keep Out Of Reach Of Children. Do Not Use If Packaging Has Been Tampered With. Store In A Cool, Dry Place (60'F To 80'F).
Nutrition Facts
Serving Size: 2 Caplets
Servings Per Container: 50
 
Amount Per Serving
Name
Serving
% Daily Value
L-Arginine (as L-Arginine HCl)
1000.0 mg
-