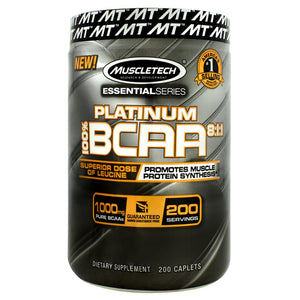 Details:
New! Superior Dose of Leucine. Promotes Muscle Protein Synthesis. 1000mg Pure BCAAs Guaranteed Banned Substance Free. MuscleTech Essential Series Delivers All Your Favorite Ingredients And Products With The Best Science, Taste And Value. Essential Series Products Are Staples For Every Athlete, With No Frails And No Fillers-Just Products You Can Trust Backed By The Best Brand In Sports Nutrition! Many Supplements Companies Don't Fully Disclose Their Ingredients. They Also Don't Invest In Science, Research Or Quality Control. At MuscleTech A Portion Of Every Dollar Spent On Supplements Is Allocated Towards Funding Scientific Research. This Means You Can Trust Essential Series for Superior Quality and Results, As Is The MuscleTech Promise. The Primary Building Blocks for Muscle. Branched Chain Amino Acids ( BCAAs) Have Been Used By Top Bodybuilders And Other Athletes For Years Due To Their Ability To Support Their Training Goals. BCAAs Are Comprised Of Three Powerful Amino Acids-Leucine, Isoleucine, And Valine-And Are Perfect For Any Hard Training Athlete Because They Serve As Key Building Blocks Of Muscle. They Can Also Help To Combat Muscle Loss And Protein Breakdown, Especially During Intense Training. Promotes Muscle Protein Synthesis. Platinum 100% BCAA8:1:1 Is A Branched Chain Amino Acid Formula Designed With A Potent BCAA Ratio Of 8:1:1 (Leucine, Isoleucine, Valine). Unlike Other BCAA Pills That Use Ratios Like 3:1:2 Or 2:1:1, Platinum 100% BCAA 8:1:1 Uses And 8:1:1 Ratio To Load Your Muscles With Leucine With Every Serving. Research Shows That Leucine Is A BCAA With The Highest Anabolic Potential, As It Activates Protein Synthesis Within The Muscle Through The mTOR Pathway. Every Serving Of Platinum 100% BCAA 8:1:1 Ensures That Your Muscles Are Primed For Muscle Building.
Ingredients:
Microcrystalline Cellulose, Hydroxypropylcellulose, Carboxymethylcellulose Sodium, Hydrogenated Cottonseed Oil, Coating (Titanium Dioxide, Polythylene Glycol, Talc), Magnesium Stearate, Silicon Dioxide, Acesulfame-Potassium.
Directions:
Take 1 Servings Daily. For Optimal Results, Take 5 Servings Per Day.
Warnings:
Do Not Use If You Are Pregnant Or Nursing. Consult A Doctor Before Use If You Have A Medical Condition And Before Starting A Diet Or Exercise Program. Keep Out Of Reach Of Children. Do Not Use If Packaging Has Been Tampered With. Store In Cool, Dry Place (60'f To 80'f).
Nutrition Facts
Serving Size: 1 Caplet
Servings Per Container: 200
 
Amount Per Serving
Name
Serving
% Daily Value
Sodium
5.0 mg
1.0%
8:1:1 BCAA Matrix
-
8:1:1 BCAA Matrix
L-Leucine 800mg, L-isoleucine 100mg, L-valine 100mg.