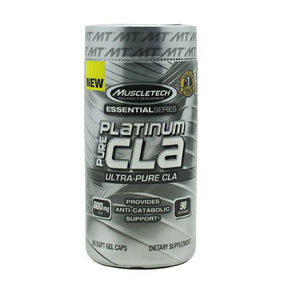 Details:
Provides anti-catabolic support. Platinum Pure CLA uses ultra pure conjugated linoleic acid (CLA). This fatty acid is naturally found in meat and dairy products. Research suggests that CLA works by down-regulaing the TNF-alpha catabolic signaling molecule in muscle, helping to prevent your body form breaking down lean muscle mass. What's more, Platinum Pure CLA is completely free of stimulants and is an excellent addition to your musclebuilding stack. It's also perfect for people following gluten-free diets.
Ingredients:
Gelatin, glycerin, purified water, carob powder (color).
Directions:
Take 1 serving (1 soft gel capsule) with a glass of water three times daily before meals (breakfast, lunch, and dinner). Do not exceed 3 servings in a 24-hour period. Read the entire label before use and follow directions provided.
Warnings:
For adult use only. Do not use if pregnant or nursing. Consult a doctor before use if you have a medical condition and before starting a diet or exercise program. Keep out of reach of children.
Nutrition Facts
Serving Size: 1 Capsule
Servings Per Container: 90
 
Amount Per Serving
Name
Serving
% Daily Value
Calories
10.0
-
Calories from Fat
10.0
-
Total Fat
1.0 g
2.0%
CLA (conjugated lioleic acid)
800.0 mg
-
CLA (conjugated lioleic acid)
Derived from safflower seed oil, supplying Cis-9-Trans-11 and Trans-10 Cis-12