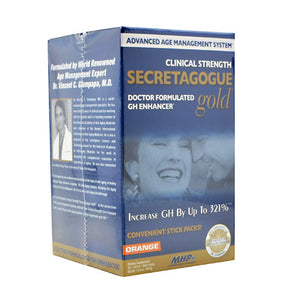 Details:
Dietary Supplement. Human Growth Factors and IGF-1 Precursors. Improves physical performance; Speeds recovery; Enhances cardiac output. Developed by leading research scientists and biochemist, Secretagogue-One addresses issues of vital importance for health, wellness and physical performance. Secretagogue-One is a proprietary blend of amino acids and precursor nutrients which enhance the body's natural production of Human Growth Factors and Insulin-like Growth Factor-1 (IGF-1). Increased Human Growth Factors and IGF-1 levels have been shown to improve physical performance, speed recover from training, increase cardiac output, and increase immune function. Individual results may vary. Vincent C. Giampapa-Founder, Longevity Institute International, Hormonal Replacement Specialist: As a specialist in Hormone Replacement Therapy (HRT) and Anti-Aging Medicine, I understand the importance of hormone regulation. MHP has taken the latest breakthroughs in scientific research for the development of Secretagogue-One. This nutraceutical formula is designed to naturally optimize the body's production of key precursor hormones, for maximum performance and well being.
Ingredients:
Citric Acid, Potassium Bicarbonate, Natural Flavor,Sodium Bicarbonate, Acesulfame Potassium, Silica and Beta-Carotene (color).
Directions:
Mix one stick pack in 5-6 oz of water and stir gently. Clinical Strength Secretagogue-Gold is most effective when taken on an empty stomach, preferably 2-3 hours before or after a meal. For optimum results, take in evening on an empty stomach before bed. Continue the use of Secretagogue-Gold for long-term benefits. Take once daily.
Warnings:
Keep out of reach of children.
Nutrition Facts
Serving Size: 1 packet
Servings Per Container: 30
 
Amount Per Serving
Name
Serving
% Daily Value
Calories
30.0
-
Sodium
65.0 mg
3.0%
Potassium
220.0 mg
6.0%
Total Carbohydrate
6.0 g
2.0%
Sugars
5.0 g
-
Vitamin A
750.0 IU
15.0%
Iron
1.0 mg
6.0%
Thiamin
0.5 mg
33.0%
Niacin
6.6 mg
33.0%
Vitamin B6
0.66 mg
33.0%
Folate
133.0 mcg
33.0%
Vitamin B12
2.0 mcg
33.0%
Pantothenic Acid
3.3 mg
33.0%
Magnesium
132.0 mg
33.0%
Zinc
5.0 mg
33.0%
Manganese
0.66 mg
33.0%
Chromium
100.0 mcg
83.0%
Polymer Transport Matrix:
5.9 g
-
Polymer Transport Matrix:
Glycoamino acid-glucose complex, novel polyose complex (as glucose polymers)
 
Secretagogue Amino Acid Blend:
5.2 g
-
Secretagogue Amino Acid Blend:
Glycine, L-Glutamine, GreenSelect Phytosome [standardized extract of green tea leaf (Camellia sinesis)], L-tyrosine, gamma-amino butyric acid (GABA), alpha GPC (glycerylphosphorylcholine), L-lysine HCl, L-Citrullin, L-Pyroglutamic acid, Broad bean
 
Secretagogue Modulating Complex
466.0 mg
-
Secretagogue Modulating Complex
Hepatic Restoration Factors: Choline bitartrate, inositol, milk thistle extract (80% silymarin), shiitake mushroom extract, maitake mushroom extract, reishi mushroom Glycation Regulating Factor: Banaba leaf extract, alpha lipoic acid, chromium dinicotinate glycinate
 
Pituitary Support & IGF-1 Co-Factors
252.0 mg
-
Pituitary Support & IGF-1 Co-Factors
MAgnesium oxide, zinc citrate, niacin, D-calcium pantothenate, manganese sulfate, folic acid, pyridoxine hydrochloride, thiamin hydrochloride, cyanocobalamin