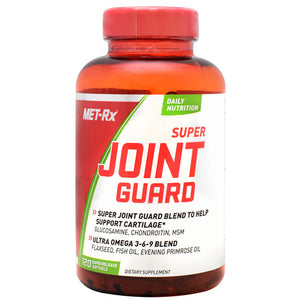 Details:
Daily Nutrition. Super Joint Guard Blend To Help Support Cartilage. Glucosamine, Chondroitin, MSM. Ultra Omega 3-6-9 Blend. Flaxseed, Fish Oil, Evening Primrose Oil. Heavy Lifting Puts Extreme Stress On Your Muscles And Joints, Which Is Why It's Essential To Provide Your Body With The Firepower It Needs To Come Back Bigger And Stronger. Specifically Designed For Bodybuilders And Athletes, Met-Rx Super Joint Guard Combines Time-Tested Nutrients To Help Support Joint Cartilage, Mobility And Overworked Joints. Each Serving Provides Important Components Found Within The Joint Structure - Such As Glucosamine And Chondroitin, Along With Omega 3 & 6 Essential Fatty Acids. If You Take A Protein Supplement Every Day To Build Your Muscles, Make Sure To Stack It With Met-Rx Super Joint Guard To Help Support Your Cartilage - So You Can Unleash The Pain On The Weights, Not On Your Joints.
Ingredients:
Soybean Oil, Gelatin, Glycerin, Soy Lecithin, Caramel Color.
Directions:
For Adults, Take Four (4) Softgels Once Daily, Preferably With A Meal. As A Reminder, Discuss The Supplements And Medications You Take With Your Health Care Providers.
Warnings:
If You Are Pregnant, Nursing, Taking Any Medications, Including Blood Thinner, Planning Any Medical Or Surgical Procedure Or Have Any Medical Condition, Consult Your Doctor Before Use. Discontinue Use And Consult Your Doctor If Any Adverse Reactions Occur. Keep Out Of Reach Of Children. Store At Room Temperature And Avoid Excessive Heat. Tamper Resistant: Do Not Use If Seal Under Cap Is Broken Or Missing.
Nutrition Facts
Serving Size: 4 Softgels
Servings Per Container: 30
 
Amount Per Serving
Name
Serving
% Daily Value
Ultra Omega 3-6-9 Blend
360.0 mg
-
Ultra Omega 3-6-9 Blend
Flaxseed Oil, Fish Oil, Evening Primrose Oil (Seed), Typical Fatty Acid Profile: Omega-3, 125mg Of Total Omega-3 Fatty Acids Comprising Of: Eicosapentaenoic Acid (EPA), Docosahexaenoic Acid (DHA), Alpha Linolenic Acid (ALA), Other Fatty Acids, Omega-6, 43 Mg Of Total Omega-6 Fatty Acids Comprising Of: Linoleic Acid, Gamma Linolenic Acid (GLA). Omega-9. 20 Mg Of Total Omega-9 Fatty Acids Comprising Of: Oleic Acid.
 
Super Joint Guard Proprietary Blend
2800.0 mg
-
Super Joint Guard Proprietary Blend
Glucosamine HCI,l MSM (Methylsulfonylmethane), Chondroitin Sulfate