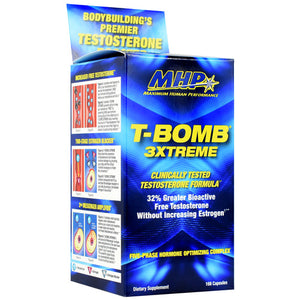 Details:
Bodybuilder's Premier Testosterone Booster. Clinically Tested Testosterone Formula. 32% Greater Bioactive Free Testosterone without Increasing Estrogen. Five-Phase Hormone Optimizing Complex. New Capsules-Same Great Formula! Groundbreaking Research: T-Bomb 3xtreme Is Bodybuilding's Premier and Trusted Testosterone Booster That Is Supported by Groundbreaking Research. In A Clinical Study, T-Bomb 3xtreme Was Shown To Not Only Increase Total Testosterone, But Also Resulted In 32$ Greater Bioactive Free Testosterone In Just Six Weeks Without Increasing Estrogen Levels. Researchers Gave T-Bomb 3xtreme To Athletes Training Upwards Of 10 Times Per Week For Six Weeks. The Workout Conditions Were So Intense That The Athletes Who Do Not Take T-Bomb 3xtreme Actually Decreased Free Testosterone And Lost Lean Body Mass. But The Athletes Using T-Bomb 3xtreme Daily Experienced Elevated Testosterone, Increased Free Testosterone And An Improved Testosterone-To-Estrogen Ratio! Clinical Strength T-Bomb 3xtreme Uses Potent Doses Of Powerful Herbal Extract, An Advanced Five-Phase Hormone Optimizing Technology And A 2nd Messenger Complex To Help Increase Testosterone Levels While Inhibiting The Conversion Of Testosterone To Estrogen Receptors And May Help Balance DHT Within A Normal Range-To Help Enhance Muscle Building And Male Performance.
Ingredients:
Rice Flour, Capsule (Gelatin, Titanium Dioxide, FD&C Blue #2 Lake), Magnesium Stearate And Silica.
Directions:
As A Dietary Supplement, Take 3 Tablets In The Morning And 3 Tablets In The Evening With 8 Fl Oz. Of Water. You May Take Before, During, Or After A Meal-Whichever Is Preferred.
Warnings:
Keep Out Of Reach Of Children. Do Not Purchase If Seal Is Broken. Protect From Heat, Light And Moisture. Store In A Cool, Dry Place. Warning: Consult With Your Physician Before Using This Product. Do Not Take This Product If You Have A Medical Condition Including, But Not Limited To, Diabetes, Heart Disease, Psychological Disorders, Prostate Hypertrophy Or Hormonal Abnormalities. Consult With Your Physician If You Are Taking Antidepressants, MAO Inhibitors Or Other Prescription Drugs. This Product Should Not Be Used By Women Or Males Under The Age Of 81. Not Intended For Use By Pregnant Or Lactating Women.
Nutrition Facts
Serving Size: 3 Tablets
Servings Per Container: 56
 
Amount Per Serving
Name
Serving
% Daily Value
Magnesium
15.0 mg
4.0%
Zinc
25.0 mg
227.0%
Copper
2.0 mg
222.0%
Clinical Strength, 5-Phase Testosterone Boosting and Estrogen Control Complex
1084.0 mg
-
Clinical Strength, 5-Phase Testosterone Boosting and Estrogen Control Complex
Tribulus Terrestris (15% Protodioscin, 60% Saponins) (Fruit), Fenugreek Seed Extract (50% Saponins), Chrysin, Red Clover Extract (8% Isoflavones) (Aerial Parts), Kudzu Root (Puerari Lobata) Extract (40% Isoflavones), Zinc Sulfate, Long Jack 50:1 Extract (Root) (Eurycoma Longifolia Jack), Copper Glucaonate, DIM (Diindolylmethane), Nettle Extract (Leaf Extract), (Urtica Diocia), Avena Sativa 10:1 Extract (Whole Plant), Saw Palmetto Berry Extract (25% Total Sterols And Free Fatty Acids) And Biperine (Black Pepper Fruit Extract) And Beta-Sitisterol (From Plant Sterols).
 
Testosterone Signaling Amplification Blend
625.0 mg
-
Testosterone Signaling Amplification Blend
Flaxseed, Stearic Acid, Glycine, Magnuesium Oxide, L-Arginine (As HCI), Dipotassium Phosphate, DL-Malic Acid, L-Methionine, Cordyceps Extract (Fungi) (Cordyceps Sinensis) And Nicotinamide Adenine Dinucleotide Reduced Form Disodium (NADH).