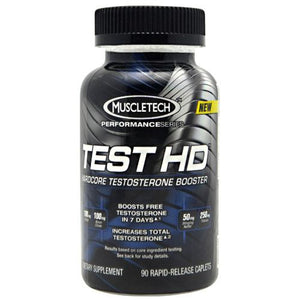 Details:
Hardcore Testosterone Booster. Boosts Free Testosterone In 7 Days. Increases Total Testosterone. 100mg Shilajit. 100mg Boron Citrate. 50mg Stinging Nettle. 250mg Tribulus. If you're serious about performance and results, you need the ALL-NEW MuscleTech Performance Series! No Proprietary Blends. No Underdosed Key Ingredients. No Banned Substances. No Fillers. No Hype. No Exceptions. Just the Most Powerful Formulas Available. Hardcore Testosterone Booster. The key ingredients in TEST HD have been shown to significantly increase testosterone levels. TEST HD requires no cycling on and off and is formulated with scientifically researched ingredients such as shilajit and boron. TEST HD also contains other well known ingredients including stinging nettle root, tribulus, velvet bean and zinc. Boost Free Testosterone in 7 Days: TEST HD is formulated with a concentrated and powerful dose of boron that is shown in human clinical research to increase free testosterone and decrease estradiol in just 7 days. Free testosterone is the most active form of testosterone and is critical for initiating the muscle building process. Increases Total Testosterone: TEST HD is the first hardcore testosterone booster to include a clinical-strength dose of shilajit, a rare organo-mineral compound obtained from steep rocks of different formations found in the Himalayas and other high mountains. This powerful test-boosting compound is shown in a human clinical study to significantly increase total serum testosterone levels as documented after 90 days. The same shilajit ingredient is studied and documented to boost ATP blood levels/concentration in just 15 days. ATP is the cellular energy used by the body and is real energy, unlike perceived energy that occurs with CNS stimulants. No PCT Required. This potent formula works with the body to naturally increase testosterone levels while staying within the normal healthy range. Get More for Your Money. Unlike the competition, Performance Series products contain superior key ingredients in clinically dosed amounts that are fully disclosed so you know exactly what you are paying for.
Ingredients:
Microcrystalline Cellulose, Dicalcium Phosphate Dehydrate, Stearic Acid, Croscarmellose Sodium, Coating (Hydromellose, Titanium Dioxide, Polydextrose Dioxide, Magnesium Stearate, Acesulfame-Potassium.
Directions:
Take 1 caplet twice daily. Take the first caplet in the morning and second caplet mid-afternoon. On workout days, take the second caplet 30 minutes before your workout. Do not exceed 2 caplets in a 24-hour period. Read the entire label before use and follow the directions provided.
Warnings:
This product contains coconut. Processed in a facility that also processes wheat. Not intended for use by persons under 18. Do not use if pregnant or nursing. Discontinue use and consult a medical doctor if you experience unusual symptoms. Consult a medical doctor if you have diabetes and/or blood deficiency. Consult a medical doctor before use if you have been treated for or diagnosed with, or have a family history of any medical condition, or if you are using any prescription or over-the-counter drug(s) including blood thinners. Consult a medical doctor before starting a diet or exercise program. Do not exceed recommended serving. Improper use of this product will not improve results and is not advised. Use only as directed. Do not use if packaging has been tampered with. Keep Out Of Reach Of Children.
Nutrition Facts
Serving Size: 1.000 Caplet
Servings Per Container: 90
 
Amount Per Serving
Name
Serving
% Daily Value
Calcium
48.0 mg
4.0%
Zinc (as zinc gluconate)
7.5 mg
50.0%
Testosterone Boosting Matrix
-
Testosterone Boosting Matrix
Tribulus extract (as Tribulus terrestris)(fruit) Supplying 45% saponins 250mg. Shilajit extract (PrimaVie) Supplying 50% fulvic acid 100mg. Boron citrate Supplying 5% boron 100mg. Broccoli powder (as Brassica oleracea) Supplying diindolylmethane 50mg. Stinging nettle extract (as Urtica dioica)(root) 50mg. Velvet bean extract (as Mucuna pruriens)(seed) 50mg.