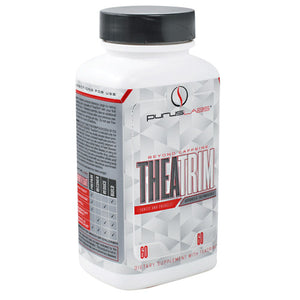 Details:
Beyond Caffeine. Ignite And Energize. Advanced Thermogenic. 60 True Servings. Dietary Supplement with TeaCrine. Go Beyond Caffeine. A Product over a Year in the Making. TheaTrim Is The Thermogenic Weight Loss And Mental Acuity Aid Worthy Of The Purus Labs Name; A Product That Bleeds The Stimulatory Effects Of Standard Thermogenics With Countless Ancillary Benefits Unseen In The Current Marketplace. While Other Companies Launched Ineffective, Overly-Caffeinated Products, and We Waited for a Revolutionary Ingredient That Would Truly Change the Game....Introducing TeaCrine. TeaCrine Is A Patent-Pending Purine Alkaloid Found Naturally In The Leaves Of The Legendary Chinese Kucha Tea And In The Fruit Of The Brazilian Cupuacu Plant. Human Studies Have Reported Favorable Impact On Psychometric Indices Of Energy And Anti-Fatigue As Well As An Increased Overall Sense Of Well Being. As Part of TheaTrim's Revolutionary Instenergy Blend, TeaCrine Synergistically Creates a Unique Psychosensory Experience Unparalleled among Today's Thermogenics.
Ingredients:
Gelatin, Dicalcium Phosphate, Silicon Dioxide, Magnesium Stearate, Titanium Dioxide, FD&C Yellow 5, FD&C Yellow 6.
Directions:
In Order To Assess Personal Tolerance, Begin By Taking On Serving (One Capsule) Of TheTtrim With Your First Meal Of The Day. If Tolerance Permits, Take An Additional Serving (One Capsule) 4-6 Hours After Your Previous Use. Do Not Exceed Four Servings Per Day. Do Not Use TheaTrim Within Four Hours Of Bedtime.
Warnings:
Do Not Take TheaTrim In Excess Of Its Recommended Dosage. TheaTrim Is Intended Only For Healthy Adults Over 21 And May Acutely Elevate Blood Pressure And Heart Rate. Consult A Licensed Healthcare Practitioner Before Use. Do Not Use If You Are Currently Pregnant Or Nursing, Have Had Or Have A Family History Of Heart Disease, High Blood Pressure, Stroke Or Any Other Disease, Or Using An MAOI, Prescription Drug, Order Over-The-Counter Drug, Particularly For Any Cold And Sinus. If You Are A Competitive Athlete And/or Subject To Drug Testing, Consult With Your Sanctioning Body Prior To Use To Ensure Compliance. Discontinue Use Immediately If You Experience Any Adverse Reactions. Store In A Cool, Dry Area Away From Direct Sunlight. Keep Out Of Reach Of Children.
Nutrition Facts
Serving Size: 1 Capsule
Servings Per Container: 60
 
Amount Per Serving
Name
Serving
% Daily Value
Vitamin B12 (as Methylcobalmin)
250.0 mcg
4167.0%
SAMe (S-adenosylmethionine)
125.0 mg
-
Citrus Bioflavonoid Complex (std. min. 40% hesperedin)
125.0 mg
-
White Willow Bark Extract (std. min 25% salicin)
80.0 mg
-
Rauwolfia vomitoria Root Bark Extract (std. min. 90% rauwolscine)
500.0 mcg
-
InstEnergy Rapid Absorption Excitatory Blend
278.0 mg
-
InstEnergy Rapid Absorption Excitatory Blend
Infinergy Dicaffeine Malate, Teacrine (as TeaCrine), Caffeine