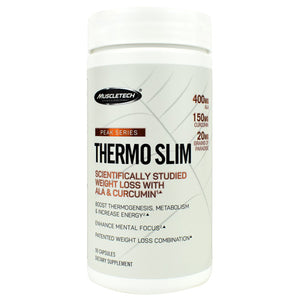 Details:
Scientifically Studied Weight Loss with ALA and Curcumin. Boost Thermogenesis, Metabolism and Increase Energy. Enhance Mental Focus. Patented Weight Loss Combination. 400mg ALA. 150mg Curcumin. 20mg Grains Of Paradise. The Peak Promise-Superior Formulas. No Compromise. MuscleTech Peak Series Supplements Are Engineered To Maximize Your Results And Optimize Your Life. Introducing The Highest Quality Formulations For Products Beyond All Reproach. Designed With Key Ingredients Hand Picked For A Specific Reason And Dosed At Fully Disclosed, Clinically Studied Amounts. No More Hyperbole. No More BS. Just Real Results. That Is Our Promise To You. Boost Energy and Metabolism: Caffeine Anhydrous To Increase Energy Levels and Boost Metabolism and Thermogenesis. Enhance Mental Focus: NeuroAmp Matrix With Caffeine Creates A Unique Sensory Experience And Enhances Focus. Healthy Weight Loss: Patented Combination of ALA and Curcumin for Scientifically Studied Weight Loss. Peak Series Thermos Slim Brings Together Two Key Ingredients In One Effective, Scientifically Researched Weigh Loss Combination That Supports Your Healthy Weight Loss Plan, Which Includes Diet And Exercise.
Ingredients:
Rice Flour, Capsule (Gelatin, Purified Water), Magnesium Stearate, Silicon Dioxide.
Directions:
To Assess Your Tolerance, Refer To The Chart Below. Once Your Tolerance Has Been Assessed, Take 3 Capsules 2 Times Daily, 30 To 60 Minutes Before Your 2 Largest Meals (E.G. Breakfast And Lunch). Do Not Exceed 6 Capsules In A 24-Hour Period. Drink 8 To 10 Glasses Of Water Daily For General Good Health. Day 1: 1 Capsule, 2x Daily. Day 2: 2 Capsules, 2x Daily. Day 3: 3 Capsules, 2x Daily.
Warnings:
Do Not Use If Pregnant Or Nursing. Consult A Medical Doctor Before Use If You Have Been Treated For, Diagnosed With Or Have A Family History Of Any Medical Condition, Or If You Are Using Any Prescription Or Over The Counter Drug(S). One Serving Of This Product Contains Up To As Much Caffeine As 3.5 Cups Of Coffee. Caffeine-Sensitive Individuals May Experience Symptoms Including (But Not Limited To) Restlessness, Nervousness, Tremors, Anxiety, Increased Heart Rate Or Difficulty Sleeping. Do Not Combine With Other Sources Of Caffeine. Discontinue Use Two Weeks Prior To Surgery. Do Not Use If You Have Any Heart And/or Blood Pressure, Or Sleep Or Anxiety Disorders, Or A Gastric Ulcer. If You Experience A Skin Rash Or Other Allergic Reaction, Discontinue Use And Consult A Medical Doctor. Keep Out Of Reach Of Children. Do Not Use If Packaging Has Been Tampered With. Store in A Cool, Dry Place (60'Fto 80'F).
Nutrition Facts
Serving Size: 3 Capsules
Servings Per Container: 30
 
Amount Per Serving
Name
Serving
% Daily Value
L-Theanine
75.0 mg
-
Huperzine-A (as Huperzia serrata) (aerial parts)
10.0 mcg
-
Theacrine (as TeaCrine)
75.0 mg
-
Caffeine Anyhdrous
275.0 mg
-
Bioperine black pepper extract (as piper nigrum) (fruit) standardized to 95% piperine
5.3 mg
-
Coleus extract (as Coleus forskohlii) (root) Standardized for 10% forskolin
100.0 mg
-
Lion's Mane (as Hericium erinaceus) (fruiting body)
100.0 mg
-
Weight Loss+Complex
-
Weight Loss+Complex
Alpha Lipoic acid (ALA) 400mg, Turmeric (curcumin) extract (as Curcuma longa) (rhizome) Standardized to 95% curcuminoids 150mg, Grains of Paradise extract (as Aframomum melegueta) (seed) 20mg.