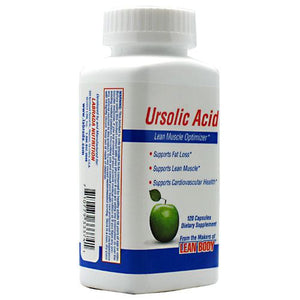 Details:
Lean muscle optimizer. Supports fat loss. Supports lean muscle. Supports cardiovascular health. Ursolic acid is a naturally occurring ingredient found in food such as apple peels. Ursolic acid provides healthful benefits for dieters and athletes. Gluten Free.
Ingredients:
Maltodextrin, gelatin, silica, magnesium stearate, titanium dioxide, sodium copper chlorophyllin.
Directions:
Take 3 capsules 3 times per day with food.
Warnings:
This product is only intended to be consumed by healthy adults 18 years of age or older. Before using this product, consult with your physician if you are using any prescription or over the counter medicine, if you are unaware of your current medical condition, or if you have any pre-existing medicine condition. Discontinue use and consult your health care professional if you experience any adverse reaction to this product. Do not exceed recommended serving. Store in a cool, dry place with lid tightly closed. Keep out of reach of children.
Nutrition Facts
Serving Size: 3 Capsules
Servings Per Container: 40
 
Amount Per Serving
Name
Serving
% Daily Value
Ursolic Acid (from Rosemary Leaf Extract)
150.0 mg
-