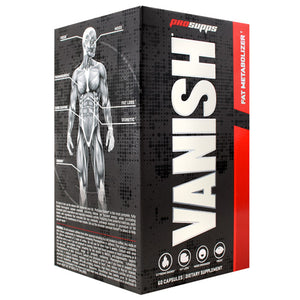 Details:
Fat Metabolizer. Extreme Energy. Fat Loss. Mood Enhancer. Focus. Extreme Energy: Powerful Thermogenic and Energy Enhancer. Weight Management: Supports Fat Loss and Appetite Control. Laser-Sharp Focus: Elevates Mood And Enhances Mental Clarity. Backed By Science: Powered By 7 Science-Backed Branded Ingredients. 529.1mg : Energy, Mood, And Focus Matrix. 250mg: Thermogenic Shred Matrix. 229.24mg Nutrient Transport and Uptake Support Matrix. It's Time to turn up the Volume and Incinerate Your Fat. Prosupps Vanish Is The Most Complete, Fully Loaded Thermogenic Capsule Available, Delivering Intense Yet Focused Energy, While Promoting Increased Caloric Expenditure And Improved Metabolic Activity. Featuring Three Powerful Matrices, Each Loaded With Ingredients That Stimulate The Key Metabolic Pathways Involved In Promotion Of Fat Reduction And The Maintenance Of Lean Muscle. Get Out The Shredder Because Vanish Is About To Help You Get Ripped.
Ingredients:
Gelatin, Microcrystalline Cellulose, Stearic Acid, Magnesium Stearate, Silicon Dioxide.
Directions:
Take One Serving (2 Capsules) Of Vanish Capsules Once Per Day. Do Not Exceed 1 Serving In 24 Hours.
Warnings:
Gluten Free. Store in a Cool, Dry Place. Protect From Heat, Light, And Moisture. Do Not Purchase If Safety Seal Is Broken Or Missing. Warning For California Residents: Consuming This Product Can Expose You To Chemicals Including Lead, Which Is Known To The State Of California To A Cause Cancer And Birth Defects Or Other Reproductive Harm. Warning: Do Not Consume Caffeine From Other Sources, Including But Not Limited To, Coffee, Tea, Soda And Other Dietary Supplements Or Medications Containing Phenylephrine Or Caffeine. This Product Contains The Caffeine Equivalent Of 3 Cups Of Coffee. Do Not Use For More Than 8 Weeks. Consult With Your Physician Prior To Use If You Are Pregnant Or Nursing, Have High Blood Pressure Or Heart Problems Or If You Are Taking Prescription Drugs, Including But Not Limited To MAOI's, Anti-Depressants, Aspirin, Non-Steroidal, Anti-Inflammatory Drugs Or Products Containing Phenylephrine, Ephedrine, Pseudoephedrine, Or Other Stimulants. Consult Your Physician Prior To Use If You Have Or Suspect You May Have A Medical Condition, Including But Not Limited To Heart, Liver, Kidney Or Thyroid Disease, Psychiatric Or Epileptic Disorders, Difficulty Urinating, Diabetes, High Blood Pressure, Cardiac Arrhythmia, Recurrent Headaches, Enlarged Prostate, Or Glaucoma. Discontinue 2 Weeks Prior To Surgery. Discontinue Immediately If You Experience Rapid Heart Beat, Dizziness, Severe Headache Or Shortness Of Breath. Keep Out Of Reach Of Children.
Nutrition Facts
Serving Size: 2 Capsule
Servings Per Container: 30
 
Amount Per Serving
Name
Serving
% Daily Value
Niacin
25.0 mg
156.0%
Chromium (as Chromium Picolinate)
400.0 mcg
1143.0%
Energy-Mood Matrix
529.1 mg
-
Energy-Mood Matrix
Caffeine Anhydrous 300mg, White Willow Bark Extract (25% Salicin) 150mg, St. John's Wort Extract (Hypericum perforatum) (herb) 50mg, TeaCrine (Theacrine) 25mg, Yohimbine 97% Extract (Pausinystalia yohimbe) (bark) 4mg, Huperzine A (Hupoerzia serrata) Extract (leaf) 100mcg.
 
Thermogenic Shred Matrix
250.0 mg
-
Thermogenic Shred Matrix
Vanillin 100mg, Caspimax Cayenne Pepper 2% Extract (Caspsicum annum) (fruit) 50mg, Advantra Z Bitter Orange Extract (Citrus aurantium) (fruit) (25% synephrine) 50mg, CaloriBurn GP Aframomum melegueta (6-paradol 12%) (seed) 50mg.
 
Nutrient Transport & Uptake Matrix
229.24 mg
-
Nutrient Transport & Uptake Matrix
Olive Leaf Extract (Olea europaea) (leaf) 100mg, CocoTeanol (Theobroma cacao; Camelia sinensis) 100mg, AstraGin (Astragalus membranaceous (root), Panax notoginseng (rrot)) 25mg, Chromax (Chromium Picolinate) 4mg, Banaba 20% Leaf Extract 240mcg.