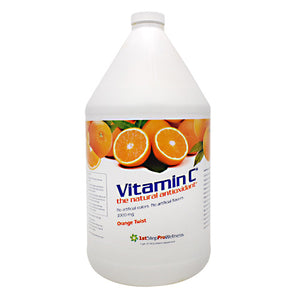 Details:
The natural antioxidant. No artificial colors. No artificial flavors. 1000mg. 1st step Pro-Wellness has been supplying nutritional supplements to professional, Olympic, and collegiate athletes since 2001. Improving the performance and overall health of athletes has been our vision. Now our vision is focused on you. Combining our experience and unique formulas into a new, complete line of supplements, we are committed to your overall health and vitality. Owned and operated by family and friends, we want you to live healthy and be healthy.
Ingredients:
Water, natural cane sugar, glycerin, citric acid (to preserve freshness), natural flavor, sodium citrate (to preserve freshness), potassium sorbate (to preserve freshness), riboflavinoids (Colorant)
Directions:
Press pump fully to dispense a one fluid ounce serving.
Nutrition Facts
Serving Size: 1 fl oz
Servings Per Container: 128
 
Amount Per Serving
Name
Serving
% Daily Value
Calories
25.0
-
Calories from Fat
0.0
-
Total Fat
0.0 g
-
Sodium
10.0 mg
-
Total Carbohydrate
7.0 g
2.0%
Sugars
1.0 g
-
Vitamin C
1000.0 mg
1666.0%