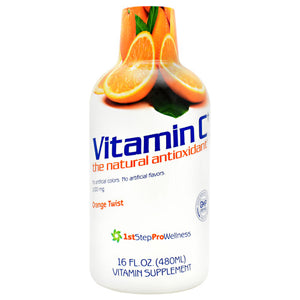 Details:
The natural antioxidant. No artificial colors. No artificial flavors. 1000mg. 1st step Pro-Wellness. Supports a healthy immune system. Supports collagen production to maintain healthy skin, bones and blood vessels. Enhances the healthy effects of exercise by reducing exercise-induced oxidative damage. Reduces oxidative damage caused by smoking or exposure to tobacco smoke. Contains 0% juice. No artificial color. No artificial flavor.
Ingredients:
Water, natural cane sugar (sucrose), glycerin, natural flavor, sodium citrate (to preserve freshness), riboflavinoids (Colorant).
Directions:
As a dietary supplement. Take one fluid once daily.
Nutrition Facts
Serving Size: 1 fl oz
Servings Per Container: 16
 
Amount Per Serving
Name
Serving
% Daily Value
Calories
25.0
-
Calories from Fat
0.0
-
Total Fat
0.0 g
-
Sodium
10.0 mg
-
Total Carbohydrate
7.0 g
2.0%
Sugars
4.0 g
-
Vitamin C (as Ascorbic Acid)
1000.0 mg
1666.0%