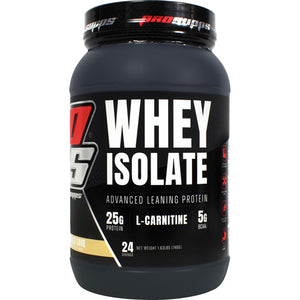 Details:
Advance leaning protein. 25G Protein. L-Carnitine. 5G BCAAs. Supports Lean Muscle Growth. Enhances Muscle Repair. Improves Exercise Performance. Fast Absorbing. Why ProSupps Whey Isolate? ProSupps Whey Isolate is specifically designed to build & maintain lean muscle mass while losing body fat; perfect for training on a reduced calorie diet. What is Advanced Leaning Protein? Whey Protein Isolate (WPI). ProSupps Whey Isolate is made using a triple cold filtered WPI that ensures the natural amino acid profile and valuable micro-fractions are kept intact. Rich in anabolic Branched Chain Amino Acids (BCAAs), ProSupps Whey Isolate also doesn't contain the added sugars and fillers commonly found in other proteins. ProSupps Whey Isolate is the first Whey Protein Isolate containing 25g of protein per serving fortified with L-Carnitine. L-Carnitine, critical to the conversion of fat to energy, is commonly found in moderate levels in everyday protein-rich foods. ProSupps Whey Isolate provides all the benefits of L-Carnitine without the fat, calories and hassle that comes with other sources. Breakfast, Snack or Meal. Use ProSupps Whey Isolate as part of a notorious breakfast or kick-start protein synthesis, as a snack, or as a meal replacement when training on a calorie reduce diet. There's a better you waiting to get out and if you're willing to put in the work, ProSupps is uniquely qualified to unleash your full potential. Having climbed to the top of the fitness mountain ourselves, we can show you how to get here through elite supplementation, education, and inspiration. We're here for your relentless pursuit of greatness, but nobody is going to do it for you. You have to EARN IT.
Ingredients:
Whey Protein Isolate, Natural & Artificial Flavors, L-Carnitine, Sodium Chloride, Silicon Dioxide, Sucralose, Potassium Chloride, Gaur Gum, Acesulfame Potassium.
Directions:
Mix 1 serving of Whey Isolate in 6-8oz of cold water (adjust for taste and consistency) and mix thoroughly. STORE IN A COOL, DRY PLACE. Protect from heat, light and moisture. Content sold by weight, not volume, some settling may occur.
Warnings:
NOTICE: Do not use this product as a sole source of nutrition, KEEP OUT OF REACH OF CHILDREN.
Nutrition Facts
Serving Size: 1 Scoop
Servings Per Container: 24
 
Amount Per Serving
Name
Serving
% Daily Value
Calories
110.0
-
Total Fat
0.0 g
-
Saturated Fat
0.0 g
-
Trans Fat
0.0 g
-
Cholesterol
15.0 mg
5.0%
Sodium
130.0 mg
6.0%
Potassium
160.0 mg
3.0%
Total Carbohydrate
1.0 g
-
Dietary Fiber
0.0 g
-
Protein
25.0 g
-
Calcium
117.0 mg
9.0%
Iron
0.0 mg
-
Vitamin D
0.0 mg
-
Total Sugars (Include 0g Added Sugars)
0.0 g
-