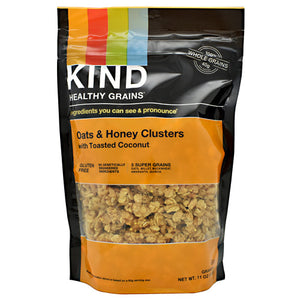 Details:
Oats and Honey with Toasted Coconut. 100% Whole Grains, 40g per Serving. Ingredients You Can See And Pronounce. Gluten Free. No Genetically Engineered Ingredients. 5 Super Grains: Oats, Millet, Buckwheat, Amaranth, Quinoa. Oats, Buckwheat, Amaranth, Quinoa. Simple, Right? Kind Healthy Grains Clusters Are Delicious Blends Of Whole Ingredients, Including Five Super Grains, Making Them The Perfect Snack For Your Active Lifestyle. 40g Whole Grains. Good Source of Fiber. Low Sodium. Enjoy Any Way You Like: On-The-Go! Over Yogurt! With Milk! Do The Kind Thing For Your Body, Your Taste Buds And Your World. Welcome To the Kind Community! Here At Kind, We Think A Little Differently. Instead Of "Or" We Say "And." We Choose Healthy And Tasty, Convenient And Wholesome, Economically Sustainable And Socially Impactful. From The Snacks And Foods We Make, To The Way We Work, Live, And Give Back, Our Goal Is To Make Kind Not Just A Brand, But Also A State Of Mind And Community To Make The World A Little Kinder. We Call This The Kind Movement, Which Has Inspired Millions Of Unexpected Acts Of Kindness Around The World. Kindly Yours, Daniel Lubetzky, Kind Founder.
Ingredients:
Oats, Tapioca Syrup, Brown Rice, Cane Sugar, Honey, Coconut, Millet, Oat Flour, Canola Oil, Buckwheat, Amaranth, Sesame Seeds, Molasses, Quinoa, Brown Rice Syrup, Sea Salt, Vitamin E (Tocopherols To Maintain Freshness).
Warnings:
Allergen Information: Contains Coconut and Sesame Seeds. Made In A Facility That Processes Peanuts, Tree Nuts And Soy.
Nutrition Facts
Serving Size: 2/3 Cup
Servings Per Container: 5
 
Amount Per Serving
Name
Serving
% Daily Value
Calories
250.0
-
Total Fat
6.0 g
8.0%
Saturated Fat
2.5 g
13.0%
Trans Fat
0.0 g
-
Polyunsaturated Fat
1.0 g
-
Monounsaturated Fat
2.0 g
-
Cholesterol
0.0 mg
-
Sodium
50.0 mg
2.0%
Potassium
163.0 mg
4.0%
Total Carbohydrate
44.0 g
16.0%
Dietary Fiber
4.0 g
14.0%
Protein
5.0 g
-
Calcium
29.0 mg
2.0%
Iron
2.0 mg
10.0%
Vitamin D
0.0 mcg
-
Total Sugars, Including 11g Added Sugar
11.0 g
22.0%