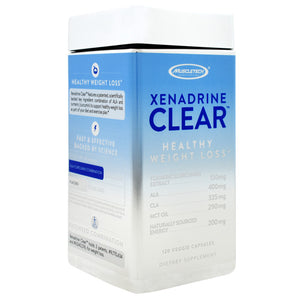 Details:
Healthy Weight Loss. Turmeric (Curcumin) Extract 150mg. ALA 400mg. CLA 335mg. MCT Oil 290mg. Natural Sourced Energy 200mg. Pure Ingredients. Turmeric (Curcumin) Extract Standardized To 95% Curcuminoids. ALA Helps Metabolize Carbohydrates Proteins And Fats. MCT Oil, A Rapidly Absorbed Energy Source, Supporting A Ketogenic Diet. Naturally Sourced Energy: Enhances Energy, Thermogenesis And Focus With Caffeine. Bioperine Black Pepper Extract, A Patented Extract From Black Pepper Fruit. Xenadrin Clear Features A Patented, Scientifically Backed Key Ingredient Combination Of ALA And Turmeric (Curcumin) To Support Healthy Weight Loss As Part Of Your Diet And Exercise Plan. Fast And Effective Backed By Science.
Ingredients:
Hypromellose.
Directions:
To Assess Your Tolerance, Refer To The Chart Below. Once Your Tolerance Has Been Assessed, Take 2 Capsules, Twice Daily, 30 To 60 Minutes Before Your 2 Largest Meal (E,G, Breakfast And Lunch). Do Not Exceed 4 Capsules In A 24-Hour Period. For Best Results, Us For 60 Days In Combination With Diet And Training. Day 1 To Day 2, 1 Capsule, 2x Daily. Day 3 And Beyond, 2 Capsules, 2x Daily.
Warnings:
Contains Coconut Ingredients. Warning: Not Intended For Use By Persons Under 18. Do Not Use If Pregnant Or Nursing. Discontinue Use And Consult A Medical Doctor If You Experience Unusual Symptoms. Consult A Medical Doctor Before Use If You Have Been Treated For, Diagnosed With Or Have A Family History Of Any Medical Condition, Or If You Are Using Any Prescription Or Over-The-Counter Drug(S). Consult A Medical Doctor Before Starting A Diet Or Exercise Program. One Serving Of This Product Contains Up To As Much Caffeine As 2.5 Cups Of Coffee. Caffeine-Sensitive Individuals May Experience The Following Symptoms Including (But Not Limited To) Restlessness, Nervousness, Tremors, Headache, Anxiety, Palpitations, Increased Heart Rate Or Difficulty Sleeping. Do Not Combine With Other Sources Of Caffeine. Discontinue Use Two Weeks Prior To Surgery. If You Experience A Skin Rash Or Any Other Allergic Reaction, Discontinue And Consult A Medical Doctor. Do Not Exceed Recommended Serving. Improper Use Of This Product Will Not Improve Results And Is Not Advised. Use Only As Directed. Keep Out Of Reach Of Children. Do Not Use If Packaging Has Been Tampered With. Store In A Cool, Dry Place (60'F To 80'F).
Nutrition Facts
Serving Size: 2 Veggie Capsules
Servings Per Container: 60
 
Amount Per Serving
Name
Serving
% Daily Value
Safflower oil seed Complex (as Carthamus tinctorius)
421.0 mg
-
Safflower oil seed Complex (as Carthamus tinctorius)
Supplying 80% CLA (conjugated linoleic acid), supplying cis-p, trans-11. Supplying trans-10, cis-12.
 
ALA (Alpha Lipoic Acid)
400.0 mg
-
Medium Chain Triglycerides (MCT) Oil
290.0 mg
-
Coffee extract (as Coffea robusta) (bean) Upplying 200mg of naturally sourced caffeine
203.0 mg
-
Turmeric (curcumin) extract (as Curcuma longa) (rhizone) Standardized to 95% curcuminoids
150.0 mg
-
Bioperine black pepper extract (as piper nigrum) 9fruit) standardized to 95% piperine
5.3 mg
-