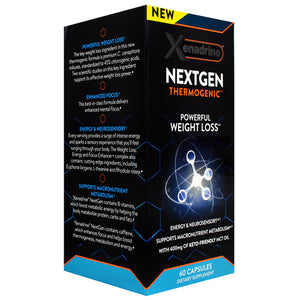 Details:
Thermogenic. Powerful Weight Loss. Supports Macronutrient Metabolism with 400mg Of Keto-Friendly MCT Oil. Weight Loss Power Capsule. Powerful Weight Loss' Plus Enhanced Energy, Focus And Thermogenesis. With MCT Oil. A Concentrated Source of MCT Oil. Powerful Weight Loss: The Key Weight Loss Ingredient In The New Thermogenic Formula Is Premium C. Canephora Robusta, Standardized To 45% Chlorogenic Acids. Two Scientific Studies On This Key Ingredient Support Its Effective Weight Loss Power. Enhanced Focus: The Best-In-Class Formula Delivers Enhanced Mental Focus. Energy and Neurosensory: Every Serving Provides a Surge of Intense Energy and Sparks a Sensory Experience That You'll Feel Surging through Your Body. The Weight Loss, Energy And Focus Enhancer Complex Also Contains Cutting-Edge Ingredients, Including Euphoria Longana, L-Theanine And Rhodiola Rosea. Supports Macronutrient Metabolism: Xenadrine Nextgen Contains B Vitamins, Which Boost Metabolic Energy By Helping The Body Metabolize Protein, Carbs And Fats. Xenadrin Nextgen Contains Caffeine, Which Enhances Focus And Helps Boost Thermogenesis, Metabolism And Energy.
Ingredients:
Capsule (Gelatin, Titanium Dioxide), Silicon Dioxide, Magnesium Stearate.
Directions:
To Assess You Tolerance, Refer To The Chart Below. Once You Tolerance Has Been Assessed, Take 2 Capsules Twice Daily, 30 To 60 Minutes Before Your 2 Largest Meals (E.G. Breakfast And Lunch). Do Not Exceed 4 Capsules In A 24-Hour Period. Drink 8 To 10 Glasses Of Water Daily For General Good Health. For Best Result, Use for 60 Days in Combination with Diet and Training. Day 1 to Day 2: 1 Capsule, 2x Daily. Day 3 and Beyond: 2 Capsules, 2x Daily.
Warnings:
Contains Milk and Coconut Ingredients. Not Intended For Use By Persons Under 18. Do Not Use If Pregnant Or Nursing. Discontinue Use And Consult A Medical Doctor If You Experience Unusual Symptoms. Consult A Medical Doctor Before Use If You Have Been Treated For, Diagnosed With Or Have A Family History Of Any Medical Condition, Or If You Are Using Any Prescription Or Over-The-Counter Drug(S). Consult A Medical Doctor Before Starting A Diet Or Exercise Program. One Serving Of This Product Contains Up To As Much Caffeine As 2.5 Cups Of Coffee. Caffeine-Sensitive Individuals May Experience The Following Symptoms Including (But Not Limited To) Restlessness, Nervousness, Tremors, Headache, Anxiety, Palpitations, Increased Heart Rate Or Difficulty Sleeping. Do Not Combine With Other Sources Of Caffeine. Discontinue Use Two Weeks Prior To Surgery. Do Not Exceed Recommended Serving. Improper Use Of This Product Will Not Improve Results And Is Not Advised. Use Only As Directed. Keep Out Of Reach Of Children. Do Not Use If Packaging Has Been Tampered With. Store In A Cool, Dry Place (60'F To 80'F).
Nutrition Facts
Serving Size: 2 Capsules
Servings Per Container: 30
 
Amount Per Serving
Name
Serving
% Daily Value
Riboflavin
0.8 mg
62.0%
Pantothenic Acid (as Calcium D-Pantothenate)
4.8 mg
96.0%
Thiamine (as Thiamin Mononitrate)
0.7 mg
58.0%
Niacin (as Nicotinic Acid)
0.9 mg
6.0%
Vitamin B6 (As Pyridoxide Hydrochloride)
1.0 mg
59.0%
Vitamin B12 (as Cyancoobalamin)
2.6 mcg
108.0%
Keto-Friendly Matrix
500.0 mg
-
Keto-Friendly Matrix
Medium Chain triglyceride oil (MCT) 400mg, Conjugated linoleic Acid (CLA) [derived from safflower seed oil] (as Carthamus tinctorius) supplying cis-9, trans-11, supplying trans-10, cis-12.100mg,
 
Weight Loss, Energy and Focus Enhancer + Complex
384.0 mg
-
Weight Loss, Energy and Focus Enhancer + Complex
C. canephora robusta extract (as Robusta coffee) (bean) Standardized for 45% chlorogenic acids 200mg, Caffeine anhydrous 180mg, Longan extract (as Euphoria longana) (fruit pulp) supplying polysaccharides, nutmeg (as Myristica fragrans) (fruit) l-theanine, Thodiola extract (as Rhodiola rosea) (root) standardized for rosavins and salidrosides.