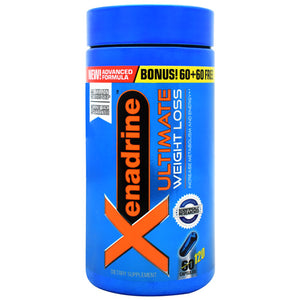 Details:
New! Advanced Formula. Bonus! 60+60 Free. Ultimate Weight Loss. Loss Weight Fast. In Two Scientific Research Studies, The Average Weight Loss With The Key Ingredient (Coffea Robusta) Was 10.9 Lbs Vs. 5.4 Lbs With Placebo In A 60-Day Study With A Low-Calorie Diet, And 3.7 Lbs Vs 1.2 Lbs With Placebo In A Separate 8-Week Study With A Calorie Reduced Diet And Moderate Exercise. High Performance Weight Loss. New Xenadrine Ultimate Unleashes A Revolution In Weight Loss. This One-Of-A-Kind Formula Contains The Powerful Weight Loss Ingredient, Coffea Robusta, Which Has Been Shown In Two Scientific Studies To Deliver Significant Weight Loss Results. Increased Metabolism And Energy: Supported By An Ingredient (Caffeine Anhydrous) To Help You Feel Energized And Enhance Focus. Sensory Experience: Cutting-Edge Ingredient Combination, L-Theanine, Yohimbe And Caffeine For A Sensory Experience You Can Feel. Premium Ingredients: Includes The Sought-After Subtropical Fruit Ingredient Garcinia Cambogia That Is Grown In Southeast Asia, Coastal India And Central Africa.
Ingredients:
Capsule (Gelatin, Mica, Titanium Dioxide, FD&C Blue No.1), Microcrystalline Cellulose, Magnesium Stearate, Silicon Dioxide.
Directions:
To Assess Individual Tolerance, Follow These Guidelines: Day 1 To 3: Take 1 Capsule, Twice A Day. Day 4 and Beyond: Take 2 Capsules, Twice Daily. Take 1 Serving (2 Capsules) Twice Daily, 30 To 60 Minutes Before Your Two Main Meals (E.G. Breakfast And Lunch). Do Not Exceed 4 Capsules In A 24-Hour Period. Always Read The Entire Label Before Use, And Follow The Directions Provided. For Best Result: Use For 60 Days with Diet And Exercise. Stay Hydrated By Drinking 8 To 10 Glasses Of Water Per Day. Do Not Snack Between Meals. Do Not Take Within 5 Hours Of Bedtime.
Warnings:
Not Intended For Use By Persons Under 18. Do Not Use If Pregnant Or Nursing. Discontinue Use And Consult A Medical Doctor If You Experience Unusual Symptoms. Consult A Medical Doctor Before Use If You Have Been Treated For, Diagnosed With Or Have A Family History Of Any Medical Condition, Or If You Are Using Any Prescription Or Over-The-Counter Drug(S). One Serving (2 Capsules) Of This Product Contains As Much Caffeine As 2.5 Cups Of Coffee. Caffeine-Sensitive Individuals May Experience The Following Symptoms Including (But Not Limited To) Restlessness, Nervousness, Tremors, Headache, Anxiety, Palpitations, Increased Heart Rate Or Difficulty Sleeping. Do Not Combine With Other Sources Of Caffeine or Stimulants. Do Not Exceed Recommended Serving. Improper Use Of This Product Will Not Improve Results And Is Not Advised. Use Only As Directed. Keep Out Of Reach Of Children. Do Not Use If Packaging Has Been Tampered With. Store In A Cool, Dry Place (60'F To 80'F).
Nutrition Facts
Serving Size: 2 Capsules
Servings Per Container: 60
 
Amount Per Serving
Name
Serving
% Daily Value
Weight Loss and Metabolic Intensity Complex
420.0 mg
-
Weight Loss and Metabolic Intensity Complex
Robusta coffee bean extract (as coffea robusta) standardized to 45% chlorogenic acids 200mg, Caffeine Anhydrous(1,3,7-trimethylxanthine) 200mg, Yohimbe bark extract (as Pausinystalia yohimbe) standardized to 6% yohimbine.
 
Xenadrine Ultimate Complex
215.0 mg
-
Xenadrine Ultimate Complex
Garcinia fruit extract (as garcinia cambogia) standardized to 50% hydroxycitric acid. l-theanine, spearmint leaf extract (as Mentha spicata), Autumn olive fruit extract (as Eleaagnus umbellata) Ashwagandha root and leaf extract (as Withania samnifera).