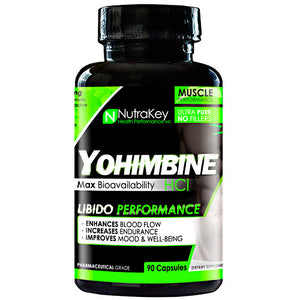 Details:
Libido Performance. Enhances Blood Flow. Increases Endurance. Improves Mood & Well-Being. Enhance Sexual Performance & Well Being. The Yohimbine tree is a tall evergreen native to Nigeria, Cameroon, Gabon and the Congo. Yohimbe bark extract contains the zactive chemical yohimbine, also known as indole alkaloid. Yohimbine works by widening blood vessels and increasing blood flow in the body. It is also thought to increase fatty acid mobilization. Yohimbe stimulates the central nervous system by causing the body to produce more noradrenaline. Nitric oxide levels are also increased which dilates the blood vessels. The combination of both increased blood flow and energy contribute to yohimbine HCL's effectiveness as an aphrodisiac. If you're interested in Yohimbe for its aphrodisiac properties its best taken immediately before sex. Yohimbe has made a name for itself as one of the most effective natural supplements for improved sexual performance in men and women. A study published in the International Journal of Impotence Research showed that yohimbine HCI was significantly more effective than a placebo.
Ingredients:
Gelatin, Rice Flour.
Directions:
Take 1 capsule (3mg) with water or your favorite beverage twice daily on an empty stomach. Take first dose in the morning & the second dose one hour prior to workout, if workouts is in the morning then take the second dose a half hour prior to lunch. To maximize results, drink at least 64 oz. of water daily while using this product.
Warnings:
Hypoallergenic: contains no yeast, dairy, egg, gluten, corn, soy, wheat, sugar, starch, salt, preservatives, or artificial color, flavor or fragrance.
Nutrition Facts
Serving Size: 1 Capsule
Servings Per Container: 90
 
Amount Per Serving
Name
Serving
% Daily Value
Yohimbine HCI
3.0 mg
-