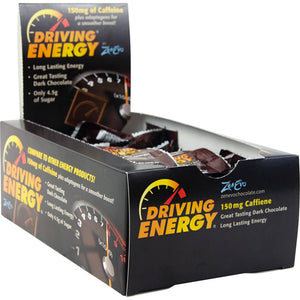 Details:
150 mg Of Caffeine Plus Adaptogens For A Smoother Boost. Long Lasting Energy. Great Tasting Only 4.5g Of Sugar.
Ingredients:
Chocolate Liquor, Cocoa Butter, Sugar, Soya Lecithin (Soy), Pure Vanilla, Caffeine 150mg, Eleuthero Ginseng 50mg, Ashwagandha 50mg, Maca 50mg.
Warnings:
Contains Soy. Processed Where Egg, Milk, Nut And Wheat Products Are Present. Keep Product Cool And Dry At 60-68 F. Pregnant Or Nursing Women And Individuals Taking Any Medication Or Who Have Underlying Conditions Should Consult With Their Physicians Before Using This Product. Zenevo Corporation Assumes No Responsibility For The Improper Use Of This Product.
Nutrition Facts
Serving Size: 1 Square
Servings Per Container: 50
 
Amount Per Serving
Name
Serving
% Daily Value
Calories
50.0
-
Total Fat
3.0 g
4.0%
Saturated Fat
2.0 g
10.0%
Trans Fat
0.0 g
-
Cholesterol
0.0 mg
-
Sodium
0.0 mg
-
Potassium
0.0 mg
-
Total Carbohydrate
6.0 g
2.0%
Dietary Fiber
1.0 g
4.0%
Protein
-1.0 g
1.0%
Calcium
0.0 mg
-
Iron
0.0 mg
-
Vitamin D
0.0 mcg
-
Total Sugars, Includes 0g Added Sugars
4.0 g
-