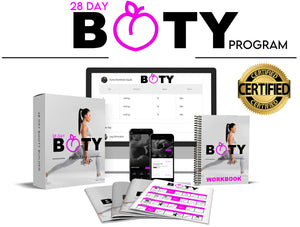 To purchase this product click here>>>https://www.akronfitnessandwellness.com/bootybuilder
About the Program....
Welcome to the 28 Day Booty Builder Program.
The no fluff, get straight to it program that provides-  long lasting results and complete transformation.
This program has been trialed and tested from working  with thousands of individuals to make sure you never have to look again for another program.  
The Booty Builder program provides workouts tailored to you, with workout videos so you know exactly how to do each movement, 28 day meal plans for any kind of diet preference, our unique calorie tracker to make sure you are actually going to tone up, advanced supplement guides, direct support from our Transformation Coaches, a private community, and much much more!
It's time to rapidly TRANSFORM your BOOTY and FINALLY achieve your goals.
THE PROGRAM IS BROKEN UP INTO 2 PHASES.