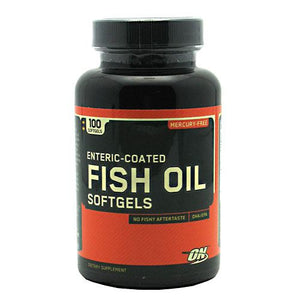 Details:
Dietary supplement. No fishy aftertaste. DHA/EPA. Mercury Free. The Bigger Picture of Fish Oils: Fish Oils contain long-chain fatty acids, including Docosahexaenoic acid (DHA) and Eicosapentaenoic acid (EPA). DHA and EPA are essential fats that cannot be made by your body. So, consuming them through foods like salmon and supplements such as the ON Fish Oil Softgels that you are holding in your hands is the only way to get DHA and EPA. Our Fish Oil Softgels are mercury-free and enteric-coated, which means that you get all of the benefits of fish oils without the fishy aftertaste that you might encounter without this special coating. Carefully manufactured in the USA.
Ingredients:
Gelatin, Glycerin, Food Glaze, Ethylcellulose, Enteric Coating (Sodium Alginate, Stearic Acid) Mixed Tocopherols, Vanillin.
Directions:
As a dietary supplement, take 1-2 softgels, up to 3 times daily, with meals. Store in a cool, dry place.
Warnings:
Check with a qualified healthcare professional before taking this product if you are pregnant, nursing a baby, under 18 years of age, or if you have any known or suspected medical conditions and/or are taking any prescription or OTC medications. Allergen Information: Contains fish (anchovy, mackerel, sardine) ingredients. Keep out of reach of children.
Nutrition Facts
Serving Size: 1 softgel
Servings Per Container: 100
 
Amount Per Serving
Name
Serving
% Daily Value
Calories
10.0
-
Calories from Fat
10.0
-
Total Fat
1.0 g
2.0%
Cholesterol
5.0 mg
2.0%
Fish Oil
1000.0 mg
-
Total Omega 3 Fatty Acids
300.0 mg
-