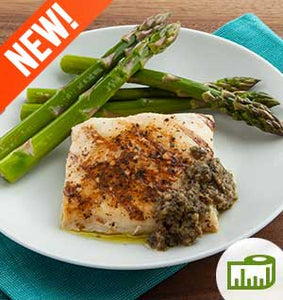 Grilled Mahi Mahi
Nutrition Facts Per Serving (4 oz)
Servings per container 1
Calories

 

90
Calories from Fat 5
 
% Daily Value*
Total Fat

 

1
2%
Saturated Fat 0g
0%
Trans Fat 0g
 
Cholesterol

 

75mg
25%
Sodium

 

400mg
17%
Total Carbohydrates

 

0g
0%
Dietary Fiber 0g
0%
Sugars 0g
 
Protein

 

19g
38%
Vitamin A 4%
Vitamin C 0%
Calcium 0%
Iron 6%
Allergy Information
Contains:
*Percent Daily Values are based on a 2,000 calorie diet
Nutrition information is calculated with data provided by the suppliers who manufacture food items for Personal Trainer Food. Variations may exist due to periodic changes in formulations. Serving sizes may vary from those used to calculate nutrition information. We attempt to provide product information that is as complete as possible. Product changes or new product introductions may cause this information to become outdated or incomplete. Data is rounded to meet current U.S. FDA NLEA guidelines. Percentage data for vitamins and minerals refers to
Ingredients
Mahi-Mahi, water, contains 2% or less of:salt, sugar, dodium phosphates, maltodextrin, dehydrated onion, spices, xanthan gum, paprika, natural flavor, spice extractive. Contains fish (Mahi-Mahi).