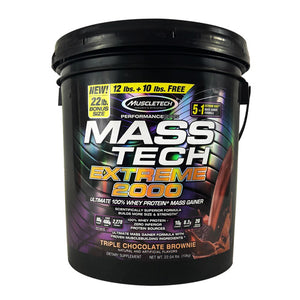 Details:
The Ultimate 100% Whey Protein + Mass Gainer. Let's face it – size is king! Nothing tells people that you're a bodybuilder more than a hulking frame complete with wide shoulders, big arms, a powerful chest and back, and a set of tree-trunk legs. Bodybuilders, powerlifters and weightlifters alike are always looking for a supplement to help them blow the doors off the size game. Whether you're stuck in a frustrating growth plateau or just have a hard time packing on mass, you now have help breaking through your roadblock. It's called MASS-TECH EXTREME 2000! Team MuscleTech researchers have engineered a brand-new, 5-in-1, hardcore mass gainer designed for individuals looking to put on an extreme amount of mass. MASS-TECH EXTREME 2000 features 80g of protein, over 400g of carbs and 2,000 mass-producing calories, plus 8g of L-leucine (when mixed with 16 oz. of skim milk), 10g of creatine, and 20 vitamins and minerals. The ideal macronutrient profile in MASS-TECH EXTREME 2000 is perfect for bodybuilders and other athletes who are looking to build muscle and increase strength without adding extra fat to their physique. Reap the rewards of all your hard work in the gym – MASS-TECH EXTREME 2000 has everything you need to bulk up, pack on muscle, smash through strength plateaus and make the kind of mass gains you've never experienced before!

Ingredients: Multi-Phase Carb Complex (Glucose Polymers, Oat Bran [as Avena Sativa], Isomaltulose), 100% Whey Protein Blend (Whey Protein Concentrate, Whey Protein Isolate 97%, Whey Protein Isolate, Hydrolyzed Whey Protein Isolate), Cocoa (Processed With Alkali), Natural And Artificial Flavors, Soy or Sunflower Lecithin, Acesulfame-Potassium, Sucralose, Gum Blend (Cellulose Gum, Xanthan Gum, Carrageenan), Salt, Ferric Orthophosphate, Medium Chain Triglycerides.

Directions: Mix 1 serving (6 heaping scoops) with 16 to 20 oz. of water or skim milk in a blender and consume once daily. Alternately, mix 1/2 serving (3 heaping scoops) with 8 to 10 oz. of water or skim milk and consume twice daily. Take in the morning, between meals, or post-workout. Read the entire label before use and follow directions provided. Drink 8 to 10 glasses of water daily for general good health.

Warnings: Not intended for use by persons under 18. Do not use if pregnant or nursing. Child-bearing age women should limit daily vitamin A intake to 10,000 IU (excludes beta-carotene). Consult a medical doctor if you have a medical condition or before starting any diet or exercise program. KEEP OUT OF REACH OF CHILDREN. Allergen Information: Contains milk, soy and coconut ingredients. Processed in a facility that also processes peanuts, tree nuts, fish/crustacean/shellfish oils, egg and wheat ingredients.