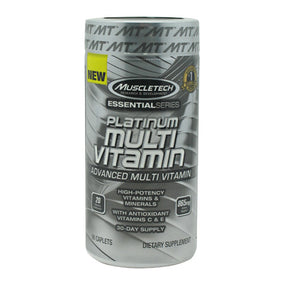 Details:
Platinum Multivitamin packs high-potency vitamins and minerals into each serving. Platinum Multivitamin has been engineered to deliver 20 vitamins and minerals, including antioxidant vitamins C & E to support general health.
Ingredients:
Microcrystalline Cellulose, croscarmellose sodium, hydrogenated vegetable oil, coating (talc, polyethylene glycol, polysorbate 80), Magnesium Stearate, Silicon Dioxide.
Directions:
Take 1 serving (3 caplets) with a glass of water daily. Read the entire label before use and follow directions provided.
Warnings:
Not intended for use by persons under the age of 18. Do not use is pregnant or nursing. May cause flushing and itching. Women of childbearing age should limit daily vitamin A intake to 10000 IU (excludes beta-carotene). Do not take while fasting. Do not use if you have had a myocardial infarction (heart attack). Consult a medical doctor before starting a diet or exercise program. Keep out of reach of children.
Nutrition Facts
Serving Size: 3 Caplets
Servings Per Container: 30
 
Amount Per Serving
Name
Serving
% Daily Value
Amino Support Matrix
865.0 mg
-
Herbal Matrix
536.0 mg
-
Mineral Support Complex
29.0 mg
-
Potassium
35.0 mg
1.0%
Vitamin A
10000.0 IU
200.0%
Vitamin C
135.0 mg
225.0%
Calcium
152.0 mg
15.0%
Vitamin D
400.0 IU
100.0%
Vitamin E
90.0 IU
300.0%
Thiamin
20.0 mg
1333.0%
Riboflavin
13.5 mg
794.0%
Niacin
60.0 mg
300.0%
Vitamin B6
10.0 mg
500.0%
Vitamin B12
100.0 mcg
1667.0%
Biotin
165.0 mg
55.0%
Pantothenic Acid
80.0 mg
800.0%
Magnesium
145.0 mg
36.0%
Zinc
9.5 mg
63.0%
Copper
1.0 mg
50.0%
Manganese
7.0 mg
350.0%
Molybdenum
10.0 mcg
13.0%
Folic Acid
300.0 mcg
75.0%
Enzyme Complex
50.0 mg
-